"Boy Oh Boy!" Death-knell sounds on proud century of Manly swimming
Manly Swimming Club, December 6, 2016: The glamorous multi-million dollar re-birth of Manly Aquatic Centre will sadly be the death-knell of over 110 years of swimming history in this proud Sydney seaside village - home to Australian swimming royalty.
Home of the famous adage - "Seven miles from Sydney and 1000 miles from care" - but now maybe for some a case of "couldn't care less."
The construction of the original Andrew "Boy" Charlton 50m pool on Balgowlah Rd was a result of the loss of the Manly ocean Baths in the 1974 storms that ripped through Sydney Harbour – destroying the Baths and the historical Manly Pool.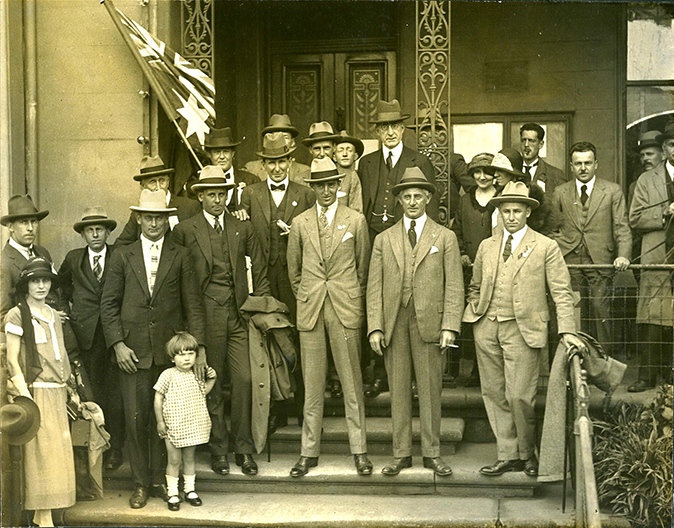 HEROES WELCOME: Andrew "Boy" Charlton (holding the jacket) ironically on the steps of the Manly Council Chambers after his triumphant return from the 1924 Paris Olympics.
The Baths were home to Manly Swimming Club; Manly Ladies Swimming Club and Manly Diggers Swimming Club – the lifeblood of competitive swimming in the area – and a production line of so many great champion club swimmers many who went on to become NSW and Australian champions in pool, surf, water polo and diving - some to the Commonwealth and Olympic Games.
Manly Olympic Pool was a modern replacement for the destroyed Baths – named in honour of the great Olympic champion "Boy" Charlton himself – a local cult-figure who has become almost as synonymous with Manly – as "The Duke" Kahanamoku has become with Waikiki.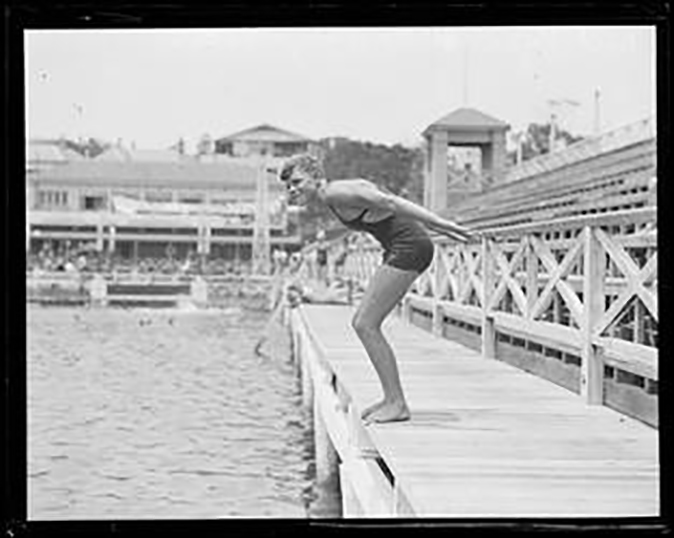 TIGER IN THIS TANK: The great Olympian and Commonwealth Games swimmer Noel "Tiger" Ryan about to take the plunge.
The modern Pool has also played host to thousands of swimmers who have graduated through its ranks – many like Elka Graham, Melanie Dodd, Brooke Hanson and Debbie Watson who have gone on to Olympic level – following the likes of first Olympic champion Freddie Lane, Charlton, Cecil Healy, Noel Ryan, Frank O'Neill, John Devitt and Olympic champion diver Richmond "Dick" Eve and so many more.
You only have to look at the new Manly Aquatic Centre website to see the acknowledgement bestowed on the 1924 Olympic champion, Charlton.
"Andrew Murray Charlton known popularly as "Boy" Charlton, was an Australian freestyle swimmer of the 1920s and 1930s. He was raised in Manly and educated at Manly Public School and later at Sydney Grammar School. He won a gold medal in the 1500 m freestyle at the 1924 Summer Olympics in Paris. He set five world records and also won a further three silver and one bronze medal in his Olympic career."
The one thing this tribute fails to mention is that he –like so many thousands of Manly-ites over the past 110 years – was a proud member of Manly Swimming Club – and the photo of a young Charlton distinctly shows him displaying his Manly Swimming Club MSC bathers – the same logo that exists today.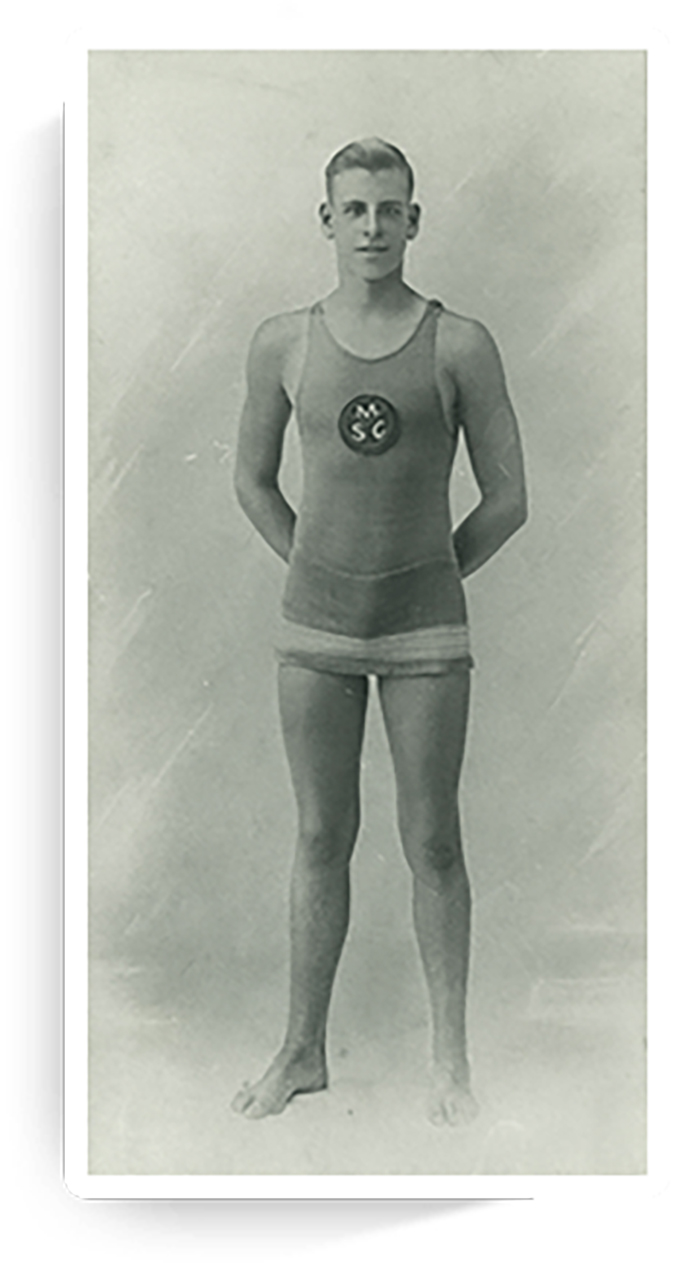 THE BOY CHAMPION: Andrew "Boy" Charlton in his Manly Swimming Club costumes
But sadly, a logo, well worn over time and displayed so proudly by all but an insignia that may well be tucked away and never worn again.
The issue is the on-going bitter dispute between Manly Swimming Club and the Northern Beaches Council over lane hire fees at the Manly Aquatic Centre and securing the ongoing future of the Manly Swimming Club – a dispute said to be beyond repair and one that will see the club drown in disappointment – a century of swimming history washed away forever.
The MSC website has an opening race date of October 8 – and it's now some two months later and the future Olympians of Manly have very much been left high and dry – no races have been swum – the starters pistol gathering dust in a bottom draw somewhere –never to be fired again.
The $27.3 million (almost double the original estimate) complex includes an indoor program pool, an indoor 25m eight-lane pool, an indoor leisure pool for children, spectator seating for 150 people, a kiosk, an administration office, a creche and a wave wall with a slide, splash rings and waterfall.
The complex also features a large spa area with a sauna and steam room, and a fully-equipped independent membership-based gymnasium that will offer group fitness classes.
The gym will be run by the council, with fees independent from the pool fees.
But no leeway when it comes to lane hire for the local swimming club!
EVERYBODY IN: The official opening of the re-constructed Manly Baths in 1926.
Hard-working MSC secretary Matthew Patterson is resigned to a lost cause and one that has left Patterson and president Chris Hatch shattered.
An issue that Council and NSW State Government and Local Member Mike Baird should have one last look at - and at least try and rescue this amazing slice of Australian sporting history.
"We now face the real prospect we may have to wind the club up. We are hoping to have a committee meeting this week and in all likelihood we will be cancelling our season," Patterson wrote to members.
"It would appear that 111 years of service to the community means little to council as now it is all about the dollar.
"This is evidenced by a conversation that Chris had with the GM of the Northern Beaches Council today when he asked the GM what he was going to do about the lost revenue without the club being there to which he replied that he would "get someone else to fill the void."
"The current offer from council will not secure our future and will not make us competitive in the market.
"Should the club accept the current offer we would survive in the short term but would quickly find ourselves trading whilst insolvent which in itself is an offence.
"Unfortunately the Local Member for Manly, Mike Baird also seems to have gone quiet on the issue with repeated requests for meetings being filtered by his PA Adele Heasman who interestingly is a former Manly Councillor during the Jean Hay era.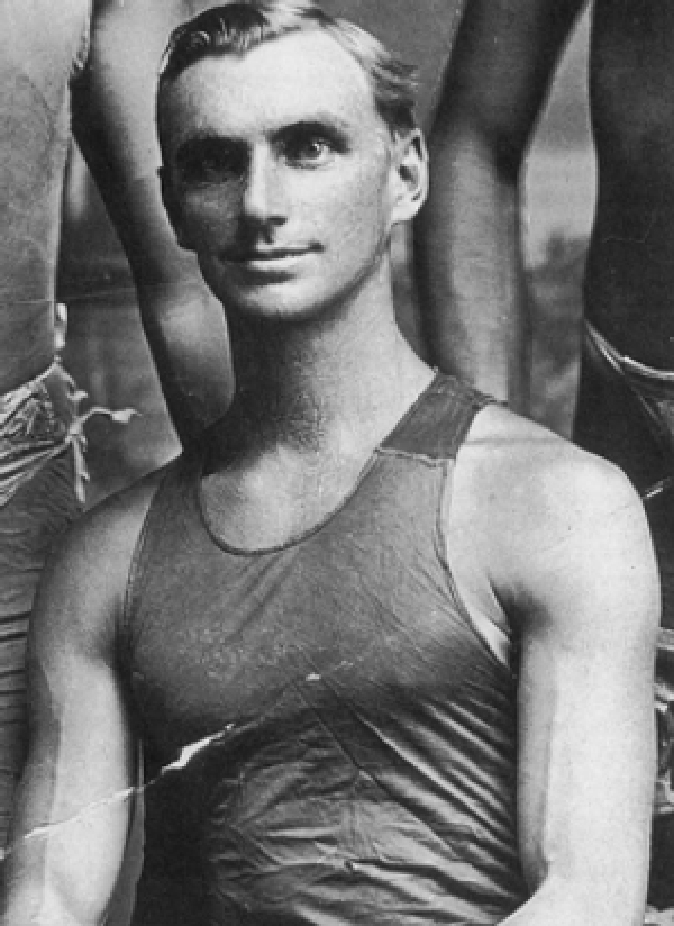 GOLDEN BOY: Australia's first Olympic swimming champion Freddie Lane from 1900 in Paris, also a Manly swimmer.
"The Administrator of the Council Dick Persson also no longer respond to emails.
"We had a meeting with the members a couple of weeks ago and they have given their unanimous support of the work of the committee and the directions they are taking."
MEMO Northern Beaches Council: Bite the bullet, eat some humble pie, secure the future of this 100 year-old institution that has helped shape Manly and its community and work with the club to ensure the MSC continues to produce another century of great champions in this amazing community….Last chance!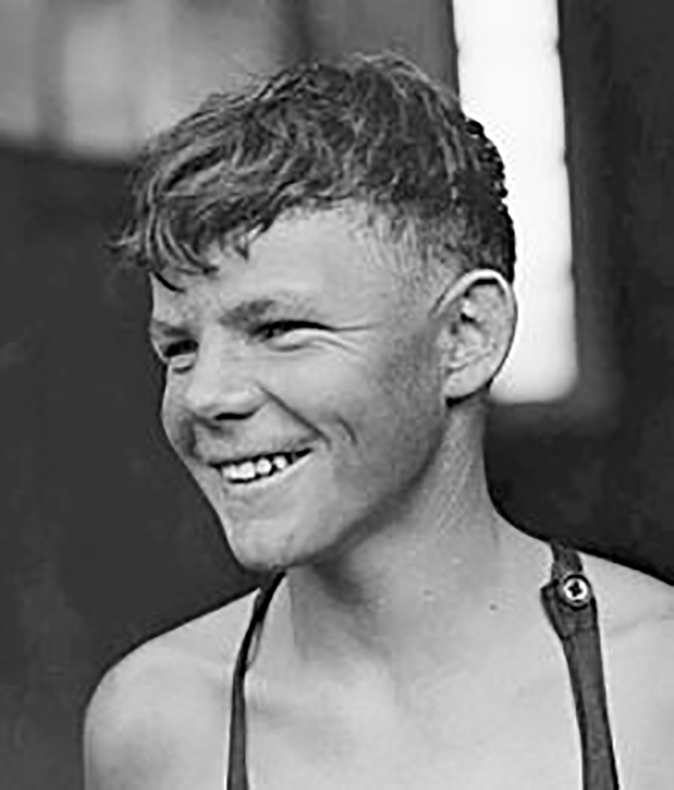 TIGER CUB: A young Noel Ryan – a legend of the Baths and the surf.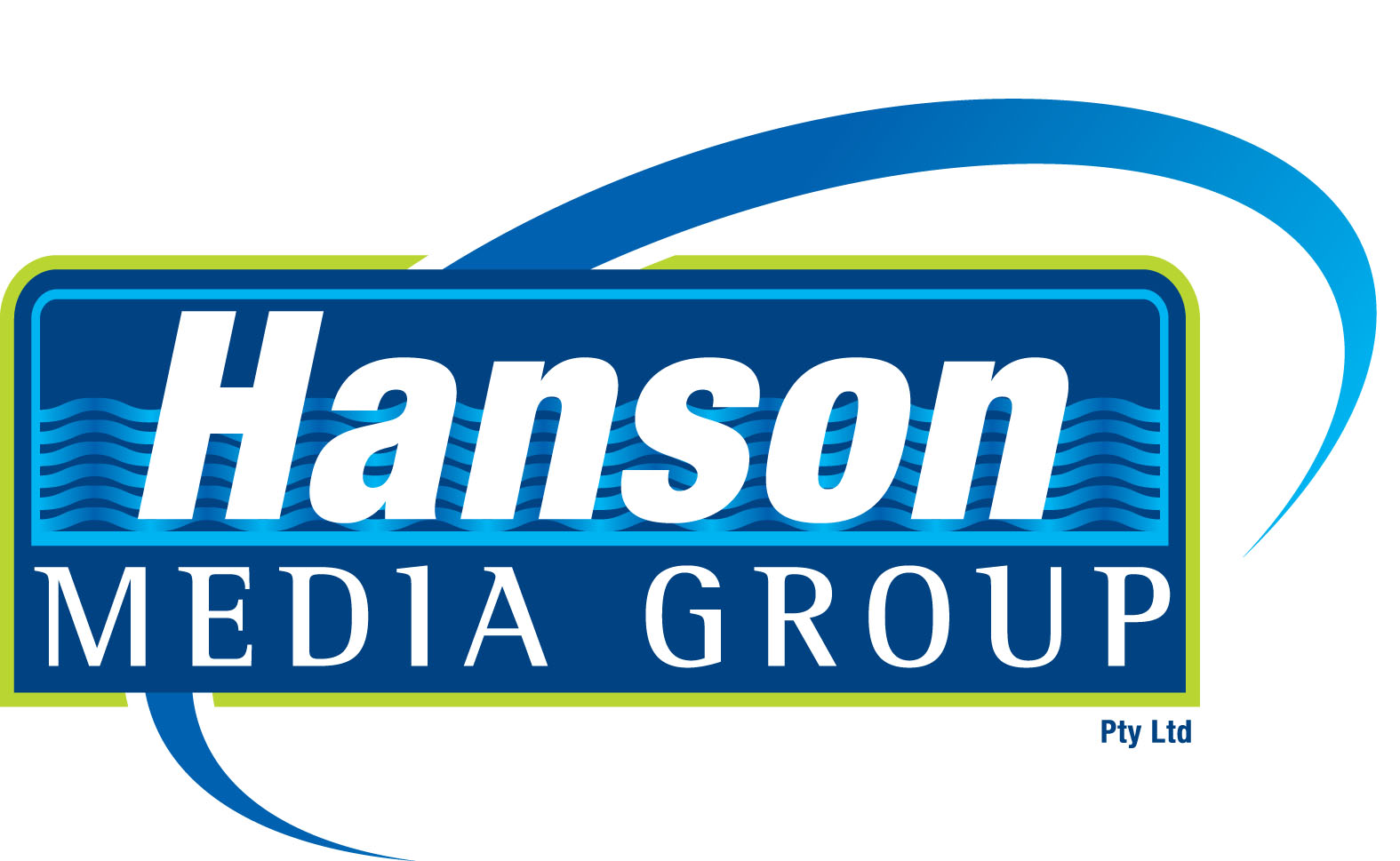 Ian Hanson| Media Manager Swimming Australia Managing Director
Hanson Media Group | P O Box 299 | West Burleigh Qld 4219
Phone: +61 7 5522 5556 | Mobile 0407 385 160 | Fax: +61 7 5522 5557
This email address is being protected from spambots. You need JavaScript enabled to view it. | www.hansonsportsmedia.com.au