"Jack of All Trades" relay boys snap up bronze in world short course thriller
Swimming Australia: December 7, 2016: A "jack of all trades" relay is the toast of the Australian Dolphins Swim Team in Canada tonight after their stirring bronze medal winning performance in the prestigious men's 4x100m freestyle.
The foursome – all from the Gold Coast - stood up when it mattered to storm home to dead-heat with the world's greatest relay swimming nation the USA and behind powerhouses Russia and France.
London Olympian Tommaso D'Orsogna anchored the team to victory, splitting 45.87 – the second fastest time of the day behind Russian Vladimir Morozov's 45.42.
D"Orsogna (Somerset) who was in the last team to podium in 2012 in Istanbul (when Australia also won bronze) said he could see the Frenchman Mehdy Metella next to him and set out after him.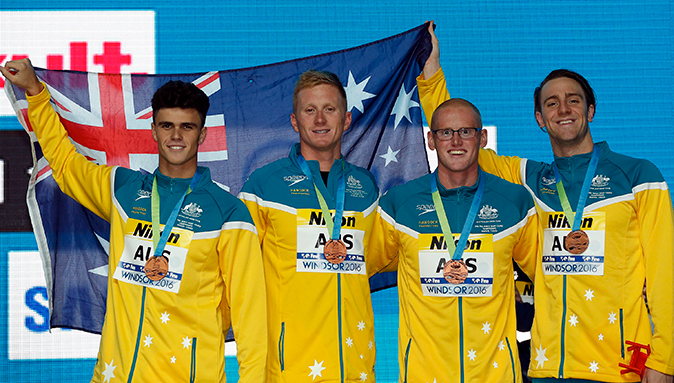 "I wanted to control my first 50m and spend the second 50m trying to get on top of Metella," said trainee doctor D'Orsogna.
"I knew if I could get ahead of him we would put ourselves on the podium.. I didn't quite get him in the end but still managed to get there for a bronze.
"It's a great feeling to have anchored the team as well, it really makes me feel like a strong part of that team tonight.
"To be on the podium again is just fantastic, it's been a while for me after missing the Rio Olympics which was a big disappointment so to come here and be back on the team and to be on the podium for Australia there's just no better feeling."
TSS Aquatic's Morgan, who tasted bronze in Rio in the 4x100m medley relay team, admitted the Aussies were up against a "stacked field."
"To come away with a bronze (in that field) is fantastic; it's Brayden's first team, then me the butterflyer and Dan the 400m freestyler it's a 'jack of all trades team'.
"And we can't forget our heat swimmer Jack Gerrard this morning who got us into the final. We have to thank him as well;
"It's a good start to the meet and we can only progress from here - onwards and upwards."
It was a just reward for Dan Smith, who went so close to a medal in the 4x200m freestyle in Rio.
"It's very exciting; I think Brayden did a very good job leading off against all the big dogs; I had the easy part but it was good he set us all up," said Robina's Smith, who has joined Michael Bohl at St Peters Western in Brisbane.
"After getting fourth at the Olympics and coming back here and getting third it's so good."
Everyone was full of praise for McCarthy on his first team but the confident boy from the Richard Scarce group at Bond was up for the challenge.
"I wasn't really nervous I just wanted to get out there and take on the big boys, and use my fighting spirit. I guess I'm just an Aussie battler and so happy to be on the podium."
Meanwhile Australia's girls finished a close up fourth in their 4x100m freestyle relay final with two-time Olympic relay gold medallist Brittany Elmslie leading off a personal best of 52.29 followed by rookies Carla Buchanan 53.17 and Jemma Schilcht 53.75 and the cool-headed Seebohm also swimming fastest than she's ever swum, stopping the clock at 52.00.
Earlier in the night Seebohm won her semi-final of the women's 100m backstroke in 56.44, beating Hungary's defending champion, tonight's 400IM winner Katinka Hosszu.
But Canadian local hero, Kylie Masse, the face of these Championships in Windsor, is quickly knocking on the gold medal door.
Masse, the bronze medallist in Rio, won the second semi-final in 56.19 and has loomed as a huge threat to both Hosszu and Seebohm.
In other stand out swims tonight defending champion Mitch Larkin (100m backstroke) and Nunawading's livewire Jess Hansen (50m breaststroke) both progressed through to tomorrow night's finals.
Larkin clocked 50.10 to finish second in his heat to Russian Andreo Shabasov who topped the qualifiers in 49.71.
"If I attack it aggressively I'm capable of swimming in the 49 mid or 49 high range and that will put me into the top three or top four….I think the person who finishes the best over the last 25 or 35 metres will be the person who wins it," said Larkin.
Hansen clocked 30.22 to qualify sixth fastest for tomorrow night's 50 metres breaststroke final – lopping 0.70 off the time she started the day with and 0.3 faster than her heat swim.
'I've got a lane in the final and that's exciting. I still have some improvement for the final, like my turn," said Hansen.
"I have learnt so much from all the international meets I have been to as a junior and to come here and race and mix it with some of the best girls in the world is amazing.
Issued on behalf of Swimming Australia by
Ian Hanson| Media Manager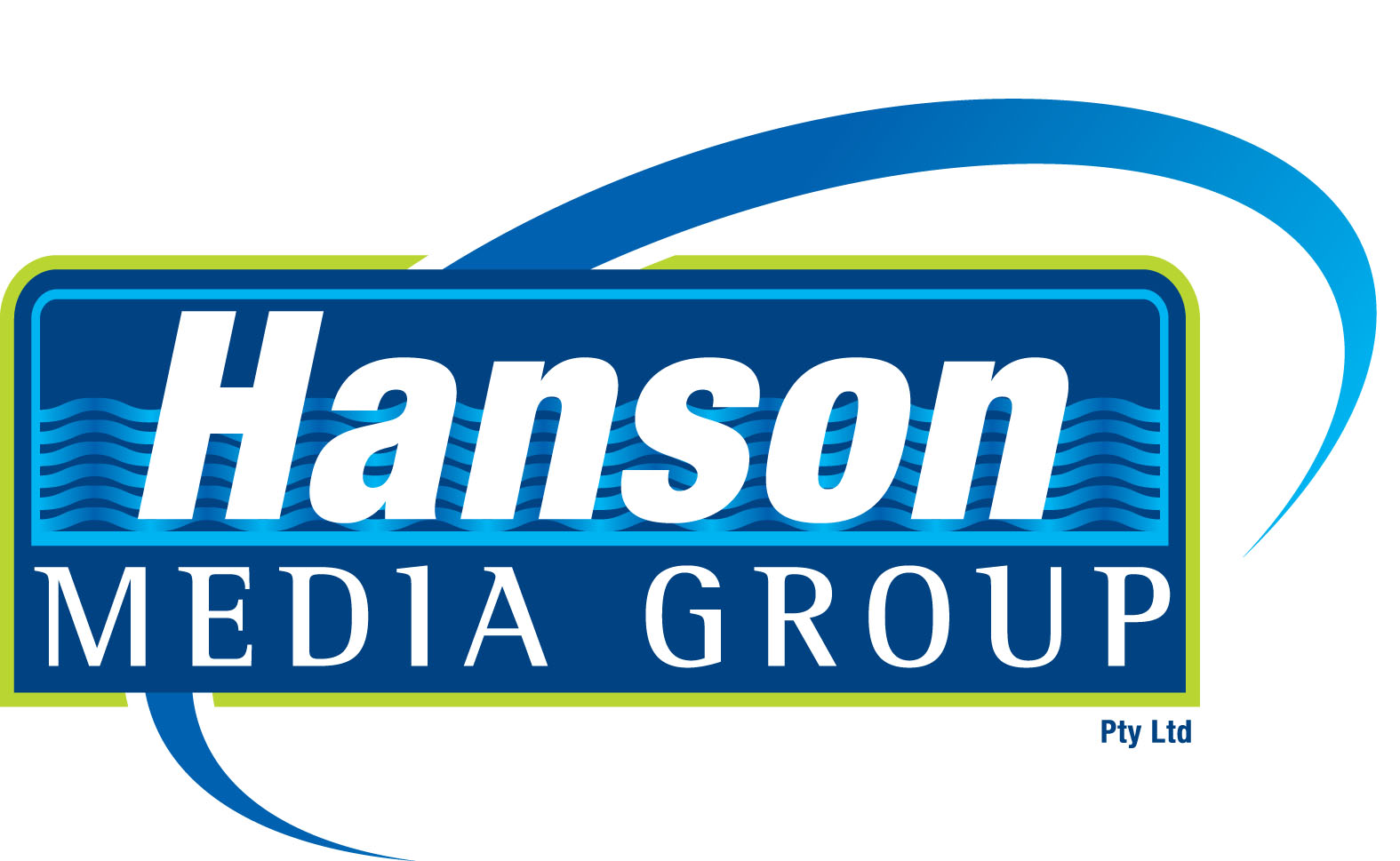 Ian Hanson| Media Manager Swimming Australia Managing Director
Hanson Media Group | P O Box 299 | West Burleigh Qld 4219
Phone: +61 7 5522 5556 | Mobile 0407 385 160 | Fax: +61 7 5522 5557
This email address is being protected from spambots. You need JavaScript enabled to view it. | www.hansonsportsmedia.com.au