Seebohm's silver lining in in Windsor wonderland
Swimming Australia: December 10, 2016: World champion swimmer Emily Seebohm has been a woman on a mission this week in Canada's icy Windsor– home to the 13th Fina World Short Course Swimming Championships (25m) as she aims to finish 2016 on a high.
The three-time Olympian, disappointed with her own results at the Rio Olympics, has already won two medals, tonight adding silver in the 100m individual medley in 57.97 to her bronze in last night's 200m backstroke – both won by her main rival, the often unbeatable Hungarian Katinka Hosszu.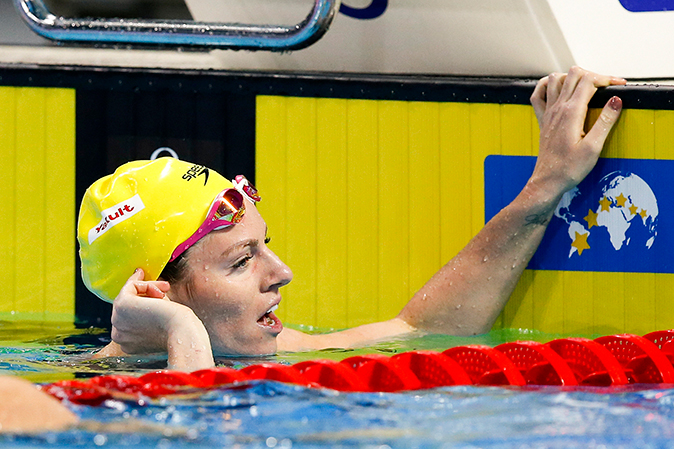 It takes Australia's medal tally at these championships to seven – two golds, one silver and four bronze.
Everywhere Seebohm steps Hosszu is right alongside her – a nemesis who has spoilt the Seebohm party more than once in 2016.
If Hosszu is the busiest swimmer in town with her non-stop program, then Seebohm is arguably the second busiest.
In four days she has swum 13 races through heats, semi-finals and finals of four individual races and a relay with up to 10 more races to swim.
In between events it's warm up and warm down; ice baths; massage; medal presentations; media interviews and drug testing before she even thinks about eating and sleeping and the 20 minute bus ride to and from the pool after several short walks in the icy-3 degree temperatures and yesterday's snow falls.
If Hosszu is the "Iron Lady" of the pool then Seebohm is Australia's "Ironwoman" who has already won 15 international gold medals – 42 career medals in total from three Olympic, two Commonwealth Games, seven world championships and two Pan Pacific Championships.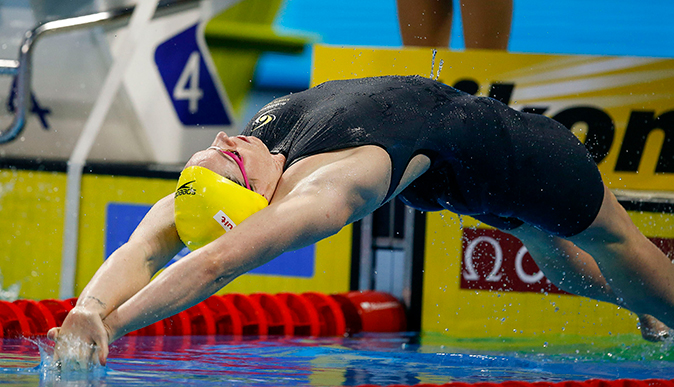 Day five will see her go head-to-head with Hosszu again as well as Canadian star, Rio bronze medallist and Commonwealth Games rival Kyle Masse from Windsor and world record holder Etienne Medeiros from Brazil as she hunts down that elusive gold in the 50m backstroke final.
But once again it's going to be a hectic night which could well see her line up in the heat and final of the 200m individual medley and a heat and semi-final of the 50m freestyle.
And what's her secret?
"It's so important not to dwell on what you've done and continue to think about what's coming up," said Seebohm, as she made her way through the busy media mixed zone area en-route to the warm-down pool, the ever-present doping control and presentation marshalls, her constant companions.
"What gets you through is to ensure you stop thinking about what you have just done and focus on the next race.
"When I was on the medal dais I was enjoying the moment and smiling but inside I was thinking 'make sure you're ready for the 50 backstroke it's going to be quick…if you're not quick then you could slightly miss it.'
"It was so important for me to put a good one in especially being semi-final one as well; you are never sure of what the girls behind you are going to do."
In other events budding 16-year-old former Tasmanian-now St Peters Western, Brisbane-based distance swimmer Ariarne Titmus finished sixth in the hotly contested 400m freestyle in a personal best time of 4:02.70 after her fighting fourth in last night's 800m freestyle, also swum in a personal best time.
In the 800 metres she was ranked 18th coming in and making the final was a bonus, saying she had no expectations on making it, let alone clocking a 12 second pb.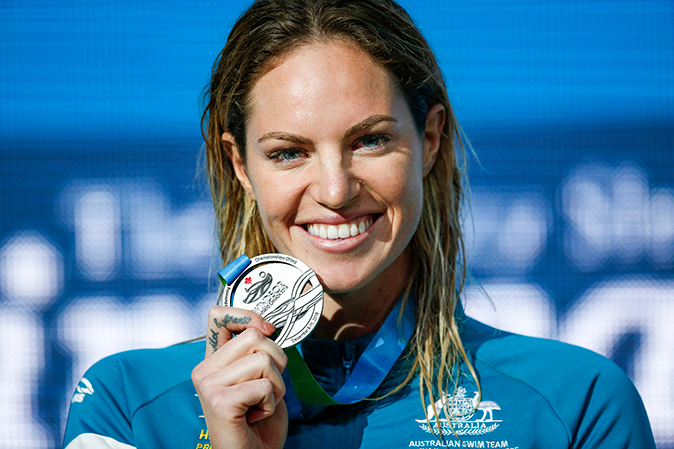 "I didn't think this would be possible so soon; tonight was tough backing up after last night's 800m, learning how to race fast in every race –heats and finals," Titmus said.
"My move to Brisbane and St Peters under coach Dean Boxall has been great; a lot of hard work and long hours but I'm only young and I've got a lot of time, but I'm really stoked with that time."
There was heartbreak for Australia's men's 4x200m freestyle relay team who were very much in the hunt for a medal, but in the end missed the podium by less than 0.20sec in a thrilling race between five teams which saw Russia win the gold from the USA and Japan.
But further encouraging signs from 25-year-old Rio Olympian and team leader Daniel Smith clocking the second fastest split of the day of 1:41.58 behind Russian anchorman Aleksandr Krasnykh (1:40.93).
"I think that's got to be close to the best swim of my career –the 200m is a race that takes a lot of thinking and I learnt a lot from Rio," said Smith.
"I find you have to stop yourself from swimming too fast too soon, learning to hold back and I think I did that tonight."
In the unofficial all-time relay splits, Canadian Brent Hayden split 1:41.49 in 2009 – but wearing a "supersuit" while the top three times ever recorded off the gun by Australians have been Cameron McEvoy (1:40.80) in 2015 Ian Thorpe (1:41.10) in 2000 and Tom Fraser-Holmes 1:41.77 also in 2015.
Another St Peters Western youngster Clyde Lewis also showed his enormous potential, swimming a pb of 1:43.64 (lead off) – which would have earned him a top eight place in the individual race and Alex Graham's 1:43.30 also stood out.
In other events last night's bronze medallist in the 100m butterfly David Morgan, has swum the fourth fastest time in the semi-finals of the 50m butterfly, at 22.62 while Nunawading breaststroker Jess Hansen was another unlucky one –missing a place in the 100m breaststroke final by just 0.09 – clocking a near personal best of 1:05.29.
Issued on behalf of Swimming Australia by
Ian Hanson| Media Manager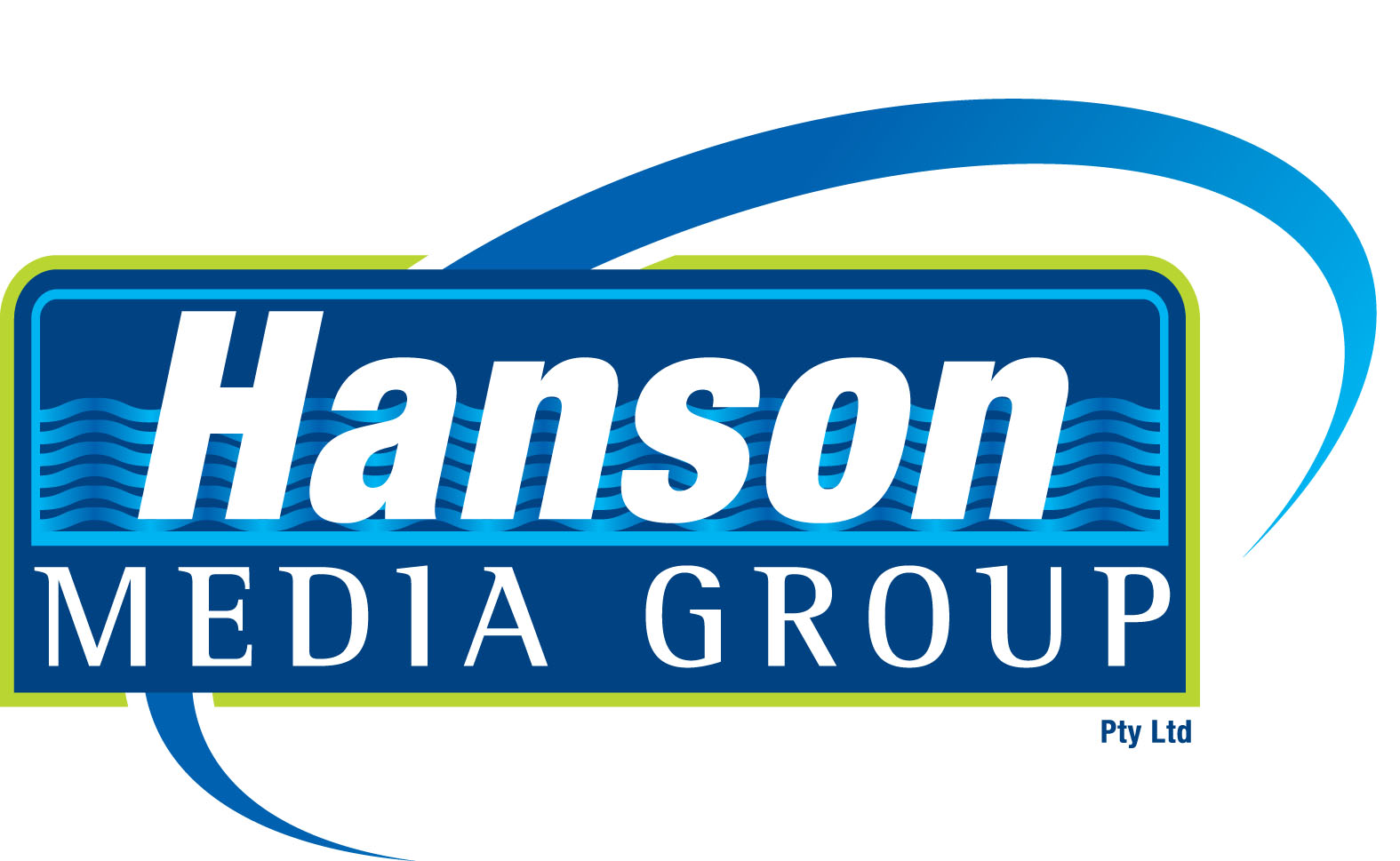 Ian Hanson| Media Manager Swimming Australia Managing Director
Hanson Media Group | P O Box 299 | West Burleigh Qld 4219
Phone: +61 7 5522 5556 | Mobile 0407 385 160 | Fax: +61 7 5522 5557
This email address is being protected from spambots. You need JavaScript enabled to view it. | www.hansonsportsmedia.com.au