Flying Morgan snares third Windsor bronze
Swimming Australia: December 11, 2016: Gold Coaster David Morgan has snared his third bronze medal of the Fina World Short Course Swimming Championships, finishing third to South African Olympic champion and world champion Chad Le Clos in the 50m butterfly in Windsor tonight.
It takes Australia's overall medal tally to eight – two gold, one silver and five bronze medals – with one day of competition remaining.
Morgan, 22, hardly had time to catch his breath after swimming in Australia's fifth-placed 4x50m medley relay before he was back on the blocks for his third individual final.
Earlier in the week he combined with Tommaso D'Orsogna, Dan Smith and Brayden McCarthy to win bronze with the "unfashionables" in the 4x100m freestyle before his first individual medal, bronze in the 100m butterfly.
In a flurry of dolphin kicks off the start and in and out of the one turn it was the 24-year-old Le Clos, who added 50m butterfly to his growing tally of international gold medals in the 100 and 200 metres butterfly.
Le Clos stole the gold in a sizzling 21.98 from US Rio Olympic relay gold medallist and Michael Phelps understudy Tom Shields (22.40) with Morgan marginally behind taking the bronze in 22.47.
"Going back two years ago at the World Short Course in Doha I was no where near these times so this is great for me; I'm getting closer to Tom (Shields) so that's good progression.
"Chad is an incredible swimmer -21.98 – that's fast and he will be a challenge (to catch) in the future – he is always going to be hard to beat but I look at it this way – if you've got a lane you've got a chance."
Meanwhile Emily Seebohm has concluded her individual program with a fourth in the 200m individual medley (2:07.41) and a close up fifth – just 0.02 away from bronze in the touch-and-go 50 backstroke final, in 26.16.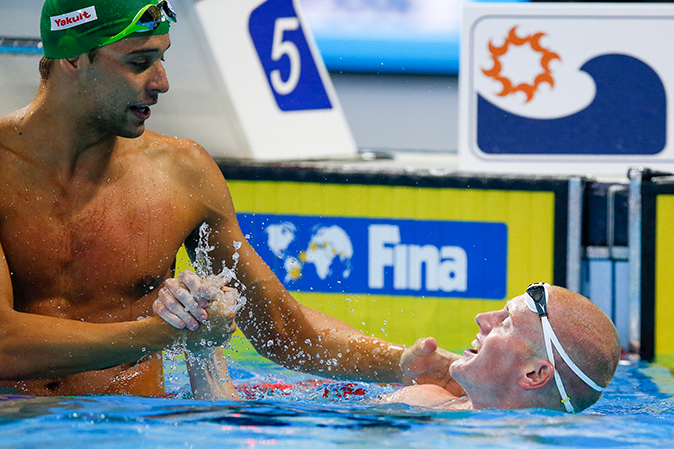 The medley went to Hungarian super swimmer Katinka Hosszu who collected he sixth gold medal of the championships.
Seebohm already has one silver (100IM) and one bronze (200m backstroke) and she has one final swim in Australia's 4x100m medley relay – a team she has staked her claim with for the past 10 years – winning Olympic gold, two World, two Commonwealth and two Pan Pacs golds.
Tomorrow she and training partner Brittany Elmslie will saddle up with youngsters Jessica Hansen and Emily Washer chasing another medal.
Elmslie is on a high after her gold medal swim in the 100m freestyle and again led by example in a gripping 4x200m freestyle relay, where she gave her three rookie team mates a great example of how to lead off a relay.
Far from a noted 200m swimmer herself, Elmslie led off in 1:54.83 followed by Carla Buchanan (1:54.65), 16-year-old Ariarne Titmus (1:55.14) and Kiah Melverton (1:55.38) for a combined time of 7:54.00 by the all-Queensland team – just 0.07 away from Russia and a bronze medal.
And although there was no podium tonight – their future looks bright.
"It is really good to get out there with the girls who have not had much practice in the relays and show them what relays mean to us girls on the Australian team," said the two-time Olympic gold medallist from London and Rio.
"They all got so excited behind the blocks and they all swam so well; those splits are world class and we have a really exciting future for the 4x200m team.
"Having them come through was really good for the 200m in Australia.
"Personally I haven't done the 200m in a while but it was great to put together a good one because we were swimming for Australia.
"You just rise to the occasion and I managed to find something that I really didn't know I had in me."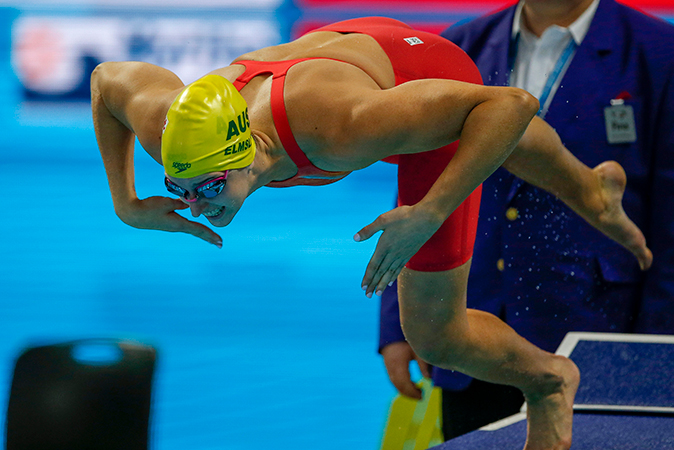 Elmslie will also contest the 50m freestyle final on the final night after finishing third in her semi-final in 24.17 for the fifth fastest time of the night.
Earlier in the Australian team of Bobby Hurley (23.64) Tommy Sucipto (26.40), Morgan (22.22) and Tommaso D'Orsogna (21.03) finished a close up 5th in the 4x50m medley relay.
Australia will also be represented in the men's 100m freestyle with D'Orsogna and the women's 100m butterfly with Emily Washer – both swimmers surviving anxious waits after finishing fourth in their first semi-finals.
D'Orsogna, who trains under Sydney 2000 Olympic relay gold medallist Ashley Callus at Somerset College on the Gold Coast stopped the clock at 47.30 to grab lane eight as did Washer, who snuck into the final in 57.44 – and believing she can swim faster.
The final individual heats featuring Australians tomorrow will be Olympic silver medallist and World Long Course champion Mitch Larkin and Bobby Hurley in the 200m backstroke.
Issued on behalf of Swimming Australia by
Ian Hanson| Media Manager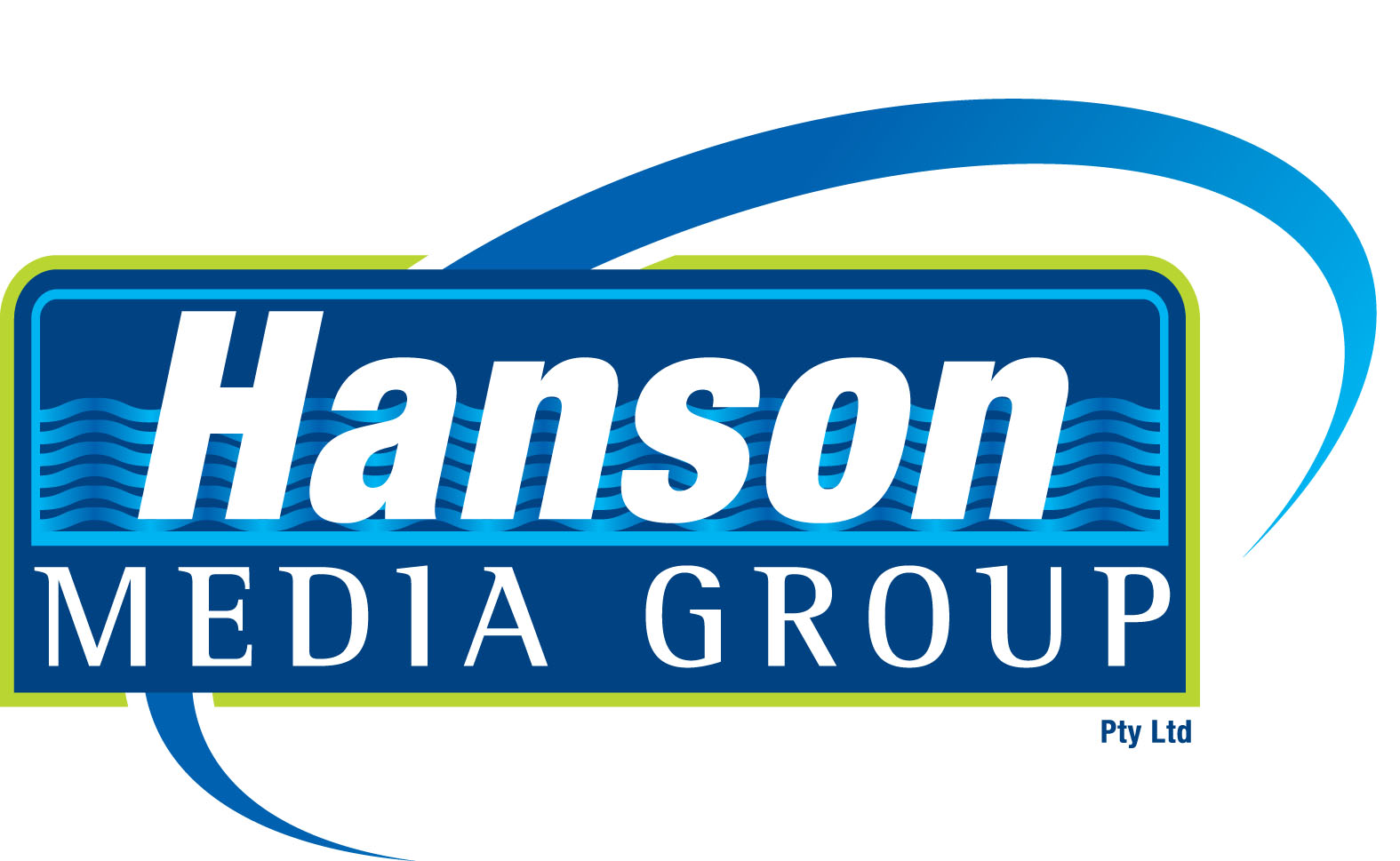 Ian Hanson| Media Manager Swimming Australia Managing Director
Hanson Media Group | P O Box 299 | West Burleigh Qld 4219
Phone: +61 7 5522 5556 | Mobile 0407 385 160 | Fax: +61 7 5522 5557
This email address is being protected from spambots. You need JavaScript enabled to view it. | www.hansonsportsmedia.com.au