Seebohm signals return to form with bronze medal in 100back plus three world records fall
Swimming Australia: July 26, 2017: Highlights:
Highlights
Bronze – Emily Seebohm, women's 100m backstroke

Three world records broken – Adam Peaty, 50m breaststroke 25.95, Lilly King 100m breaststroke 1:04.13 and Kylie Masse 100m backstroke 58.10

Emma McKeon through to 200m free final as second fastest qualifier
How to Watch
The heats will commence at 17:30 AEST and will be broadcast LIVE AND EXCLUSIVE on the Seven Network on 7TWO (please check your local guides for details).
A jaw-dropping three world records were broken on night three of the 2017 FINA World Championships with the men's 50m breaststroke, the women's 100m breast and the women's 100m backstroke standards all lowered in spectacular fashion on a fast night at the Duna Arena.
The first record to go was the 50m breaststroke with Great Britain's breaststroke king Adam Peaty storming ahead in the final metres of the one lap dash, hitting the wall in a time of 25.95, to be the first man under 26 seconds – and convincingly so.
Peaty will move through as fastest qualifier for the final tomorrow night, where the record could be in danger again.
It also took a world record to deny Emily Seebohm a title defence in the women's 100m backstroke, as the 25-year-old battled her way to bronze in a hard-fought podium finish.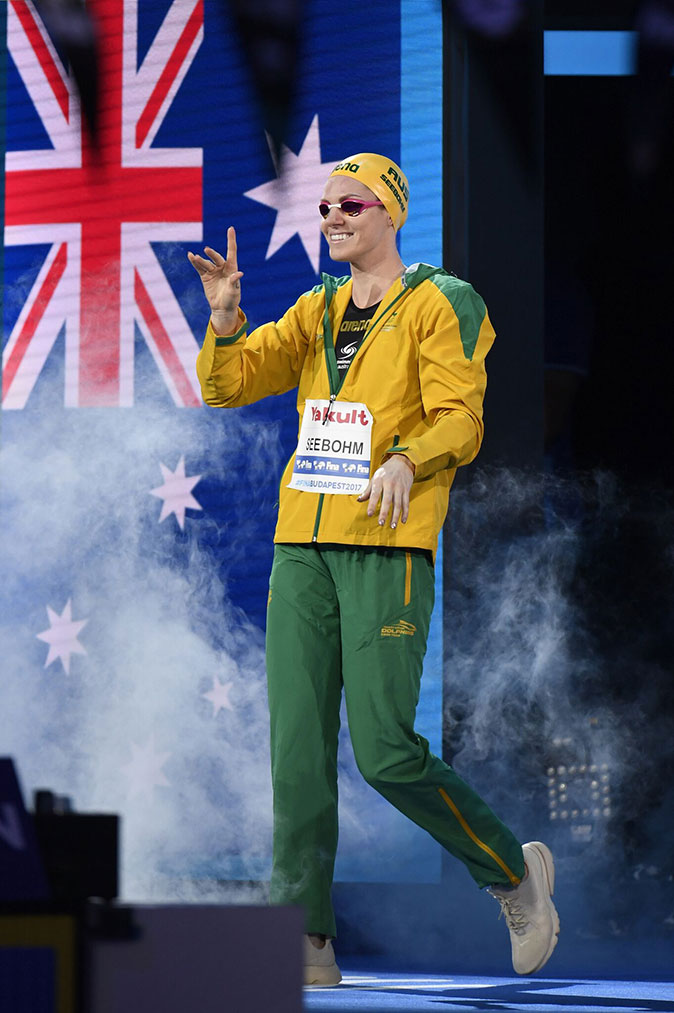 It was all over in a speedy 58.10 as Canada's Kylie Masse, the bronze medallist from Rio, lowered the world mark of 58.12, set in the super-suit era of 2009, and took the title in the women's 100m back.
The fight for the minor medals was on with the USA's Kathleen Baker (58.58) and Australia's Seebohm (58.59) going stroke for stroke to the wall with Baker just out-touching Seebohm by the smallest of margins, 0.01 of a second, to sneak into the silver medal position.
But after a year plagued with illness and injury in 2016, Seebohm couldn't be happier to be back on the podium and certainly signalled her return to form tonight.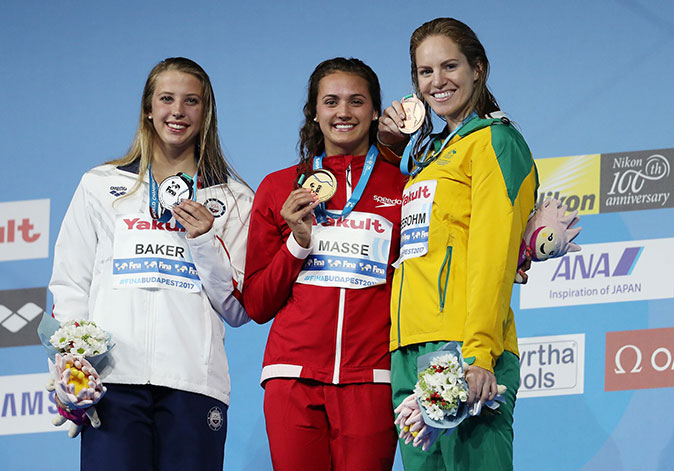 "That's exciting, it just goes to show how much hard work I did after Rio and just how tough it was on my body," Seebohm said.
"I'm stoked with that and so proud to be back on the podium.
"To me it doesn't matter where I am, I went in that tonight just wanting to do a good job, after Rio and everything I did a really big job of trying to turn it around and getting out of a hole that I was in.
"I'm really happy with that, and such a good time, the best time I've done since 2015 and being in peak form, so I'm stoked," Seebohm said.
Ten years after making her Dolphins debut as a 14-year-old at the 2007 World Championships, Seebohm has etched an impressive swimming career for herself with an incredible 12 World Championship medals to her name, four of those gold.
Showing no signs of slowing down, the David Lush coached star she was excited for more racing to come.
"That was fantastic, it's awesome," she said of Masse's new world record.
"I really enjoy racing these girls and I'm looking forward to some more good racing over the years."
The final world record to fall came in the hotly contested women's 100m breaststroke where the USA's Lilly King blitzed the field and stopped the clock at 1:04.13, just ahead of her teammate Katie Meili (1:05.03) and Russia's Yuliya Effimova (1:05.05).
In other events…
Men's 100m Backstroke
Defending champion Mitch Larkin was just off the pace in the men's 100m backstroke final, finishing sixth overall in a time of 53.24.
Following some time off after Rio and a switch to a new training program under Coach Simon Cusack, Larkin is in a transition phase and said this was just the start for him.
"The goal wasn't to win the 100 here, if I wanted to defend my title I wouldn't have changed coaches and had a bigger break after Rio," Larkin said.
"For me this event sets the tone for the next couple of years and I'm pretty happy with where I'm at."
Larkin's title winning time from 2015 of 52.40 would have won gold this year as well which gives him hope of catching the leaders again soon.
"I'll go home and tweak things with Simon, he's a good coach and there are some areas in the backstroke that we can work on," Larkin said.
The gold medal went to China's Jiayu Xu (52.44) with the USA's Matt Grevers (52.48) and Ryan Murphy (52.59) rounding out the top three.
Women's 200m Freestyle Semi-Final
Dual silver medallist from the meet so far Emma McKeon will move through as second fastest qualifier for the 200m freestyle final tomorrow night, right in the mix for a medal.
Swimming a 1:54.99, in the semis will give McKeon Lane 4, while the USA's Katie Ledecky (1:54.69) will swim from lane 4.
McKeon is in good form but will need to keep an eye on Italy's Frederica Pellegrini, the world record holder in this event, and will need to dip under the 1:55 mark once again tomorrow night.
Men's 200m Butterfly Semi-Final
Swimming from the outside lanes in the second semi-final both Grant Irvine (1:56.33) and David Morgan (1:57.66) have missed out on a finals berth for the men's 200m butterfly, finishing 12th and 16th respectively.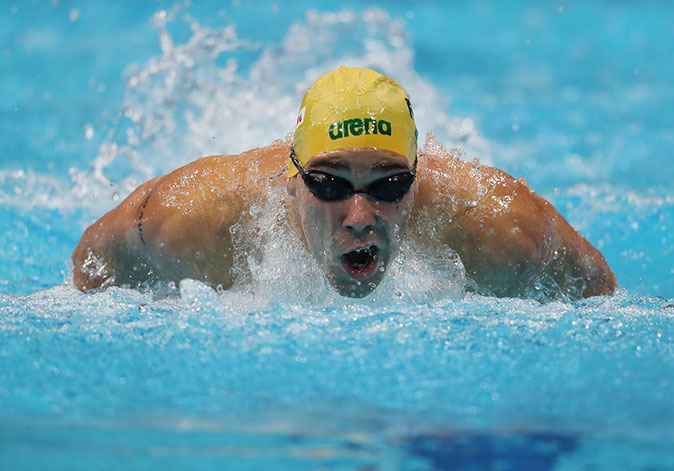 Full results are available here: http://www.omegatiming.com/Competition?id=000111010AFFFFFFFFFFFFFFFFFFFFFF&day=1
Please note that photos of the Australian Dolphins Swim Team competing at the 2017 FINA World Championships will be uploaded regularly to this link: https://www.dropbox.com/sh/2h3r74cvpuugiyf/AAAyMjMHcXL8z_rWuFJqdHALa?dl=0
All photos are available for editorial use and need to be credited to Swimming Australia Ltd.
Issued on behalf of Swimming Australia by
Ian Hanson| Media Manager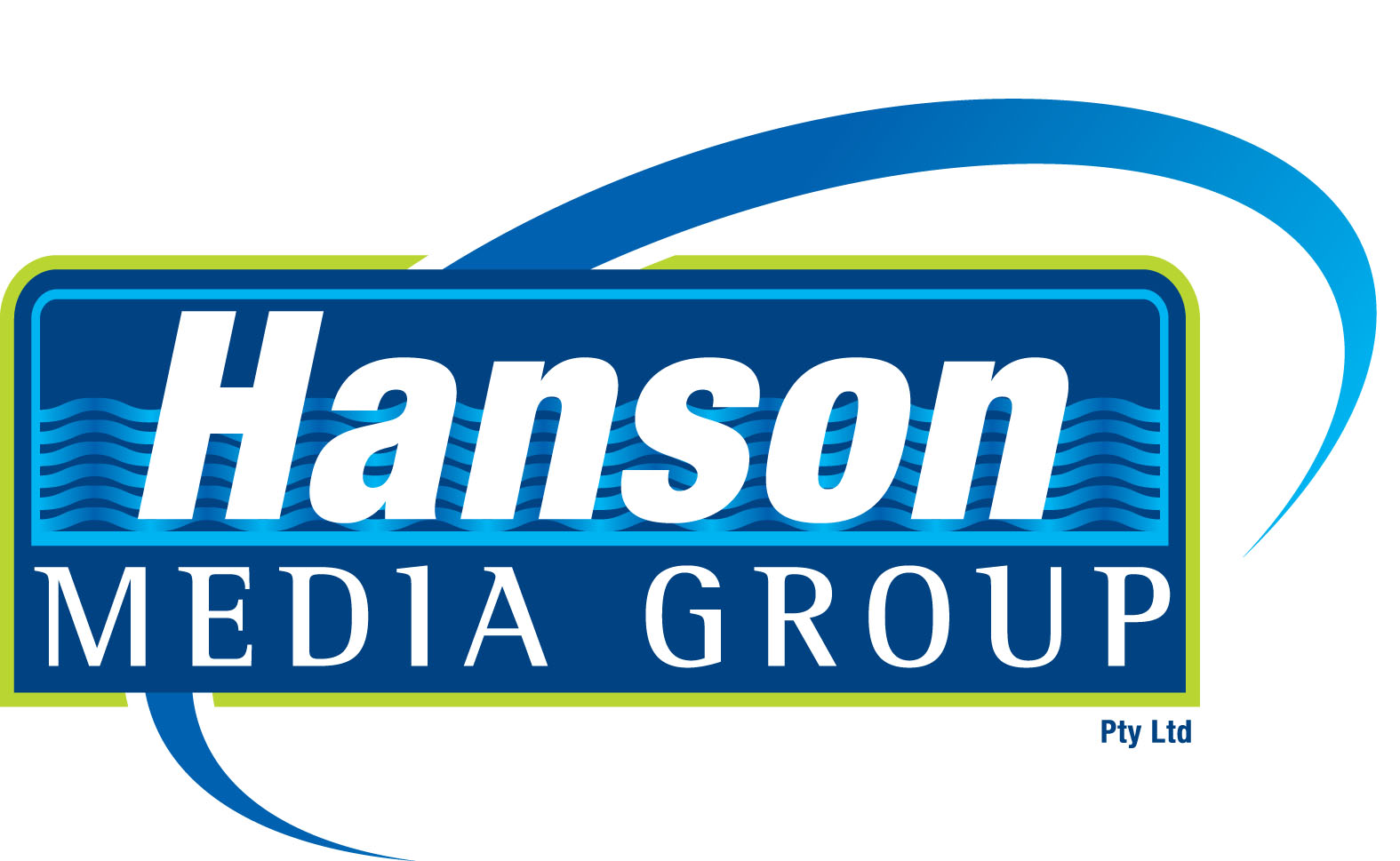 Ian Hanson| Media Manager Triathlon Australia Managing Director
Hanson Media Group | P O Box 299 | West Burleigh Qld 4219
Phone: +61 7 5522 5556 | Mobile 0407 385 160 | Fax: +61 7 5522 5557
This email address is being protected from spambots. You need JavaScript enabled to view it. | www.hansonsportsmedia.com.au