A hard day's night for Ali and three times a lady for Liz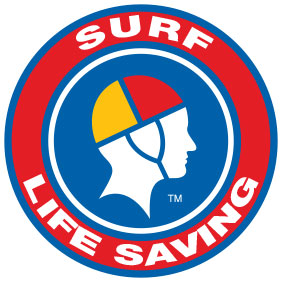 Surf Life Saving Australia, October 12, 2015: Ali Day and Liz Pluimers are the toast of the coast today after being crowned the 2015 men's and women's Coates Hire Coolangatta Gold champions in perfect conditions on the Gold Coast.
But their preparations were far from perfect and both had to dig deeper than ever just to get to the starting line of ironman racing's grueling 41.8km test of the toughest.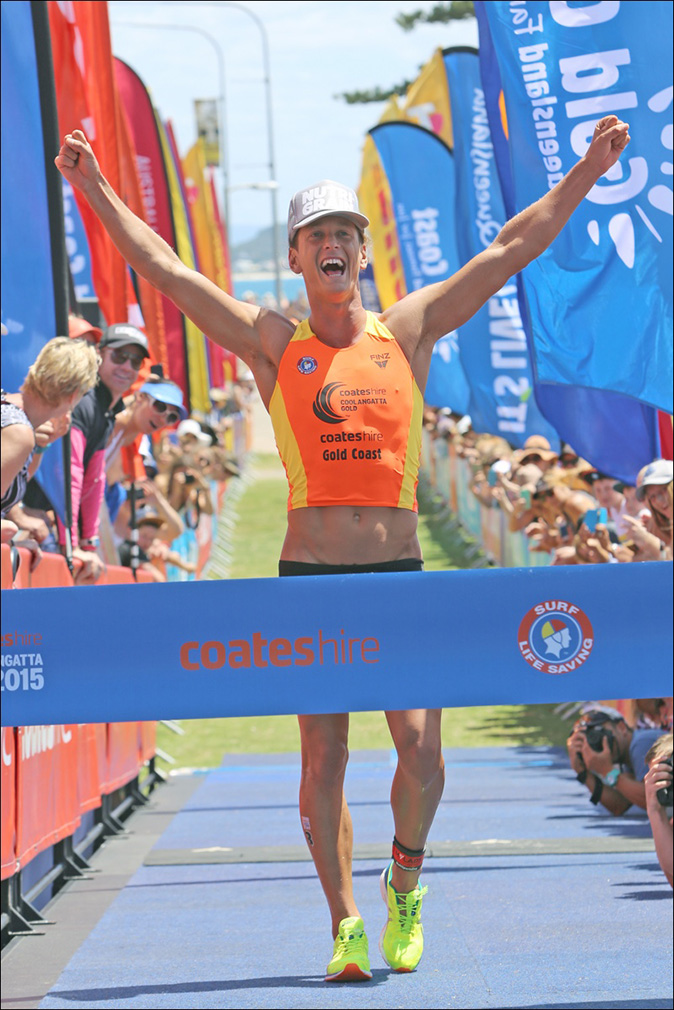 Day had a battle on his hands all day with 2005 runner-up Jeremy Cotter leading out of the 23km ski then evergreen Nathan Smith led him out of the swim before Day took control on the board and run legs.
In the end, Day was able to enjoy his celebratory walk to the line ahead of Smith who notched his fourth second place with fellow 35-year-old Cotter running home strongly to take third, 10 years after his second-place finish to Caine Eckstein.
Two-time winner Pluimers and her North Burleigh team mate Brodie Moir were dominant from the outset in the women's race but it was the 2013 and 2014 winner Pluimers who held on for a slice of history with Moir second and last year's runner-up Rebecca Creedy third.
Day, the 2012 and 2013 Gold winner, revealed after the race that he almost didn't make it to the starting line after suffering a gastro attack last night which kept him up most of last night and on the brink of withdrawal.
"I was really scared last night after going to bed around 9 o'clock and I was up till midnight throwing up," said Day, who thought his chances of racing were over.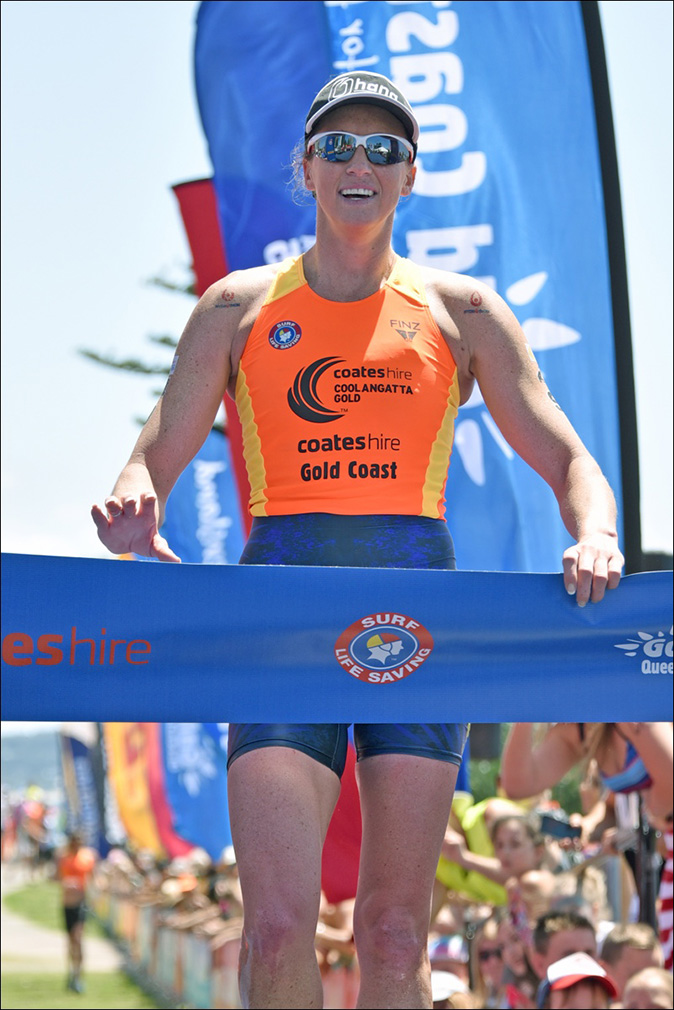 "I almost gave up but my girlfriend Kel gave me some encouraging words saying 'if you get through tonight Ali you'll get through anything tomorrow.' And that really helped me a lot.
"But I woke up feeling worse for wear and there were times in the ski leg when I felt like pulling the pin but I kept going and knew if I had a really good run transition into the swim I would be able to get into a flow.
"My handlers kept encouraging me and that helped me get across the line."
Pluimers, 28, the 2013 and 2014 winner only decided to race on Friday, after receiving the final all clear from scans on her torn calf.
Victory would mean a slice of Coolangatta Gold history as the only woman to win three successive Golds.
"I got the all clear to race on Friday when the scans showed it was now only a slight tear and the doctor said 'go for it'," said Pluimers, who tore her calf representing Australia at Maroochydore last month.
'Even though it was only a last minute decision to start I actually tapered as if I was going to start and in fact I probably tapered a bit more which made me feel even fresher so that could have been a blessing."
Pluimers planned to make the field hurt on the ski but it was Moir who edged in front after the 23km ski leg from Coolangatta to Broadbeach and back to Miami.
But after the 2.1km run to Burleigh and then the swim to North Burleigh and back to Burleigh, Pluimers opened up a lead of over a minute as they set off for the 6.1km board paddle to Currumbin.
Pluimers, although admitting if Moir had challenged her she would have been happy to surrender, was never headed as she paddled and ran towards her third Coolangatta Gold victory and a slice of Surf Life Saving history.
Moir, the 2011 Coolangatta Gold winner, put up a brave race and pushed Pluimers to her third victory with Creedy again on the podium.
Day admitted despite the upheaval that forced his moved from Mooloolaba to Surfers Paradise this season his intentions were always to race the Gold an event he loves and is passionate about.
"In past years I've had a bit more time and a bit more space on the guys but this year it was different with the lead changing between myself, Nathan and Jezza," said Day, who received words of encouragement along the way from five-time winner Caine Eckstein.
"Caine was at Bilinga and gave me a cheer and he still has that aura about him; he's still a hero of mine and I have a huge amount of respect for both Caine and his brother Shannon, they are the reason I do this race.
"That was definitely the hardest Gold I've done; it was a different year; a year of change for me."
And the big question being asked all along the coast yesterday was: "When will Caine race Ali ?...That would be something else."
And when asked about her future, Pluimers was emphatic saying: "That's it…I'm done…"
Before changing her mind to say: "Well I think so...I just love the sport…and I can't get enough of it."
The only firm answer came from Cotter, who discounted his return next year saying: "That result was way beyond my expectations…10 years on….I'm stoked with that….and that's it…I'm going back to being a normal human being."
But maybe all will be revealed next year….such is the magnetism of the Coates Hire Coolangatta Gold.
2015 Coates Hire Coolangatta Gold
Long Course
Elite Male:
A Day, 3:42:04
N Smith, 3:44:59
J Cotter, 3:45:59
Elite Female:
E Pluimers, 4:03:08
B Moir, 4:05:35
R Creedy, 4:14:43
20-29 Male:
B Vening, 4:40:52
S Armstrong, 4:45:57
30-39 Male:
T Jennett, 4:20:00
N Stewart, 4:29:46
L Caldwell, 4:36:36
30-39 Female:
T Smith, 4:55:00
40-49 Male:
M Forrester, 4:14:54
R Cooper, 4:22:20
S Sewell, 4:33:48
50+ Male:
T Mandeville, 4:46:57
B Strachan, 5:15:25
50+ Female:
A Hanmer, 5:23:23
Relay Open Male:
Speeders, 3:50:21
Butts Team, 3:52:15
The Grange Pirates, 3:54:39
Relay Open Female:
BMD Northcliffe, 4:11:36
Freshie Girls Senior, 4:42:02
Relay Open Mixed:
Avoca Arsenal, 4:10:07
Team Jones, 4:26:10
Two Stars Down, 4:52:41
Relay Masters Male:
Mad Mackerels, 4:32:48
Wauchope Bonny Hills, 4:42:59
Cronulla Masters, 4:43:24
Relay Masters Female:
Navoca, 4:49:00
Relay Masters Mixed:
The Phingles, 4:45:15
Coogmopolitan, 4:55:18
Boris and Bocos, 5:06:22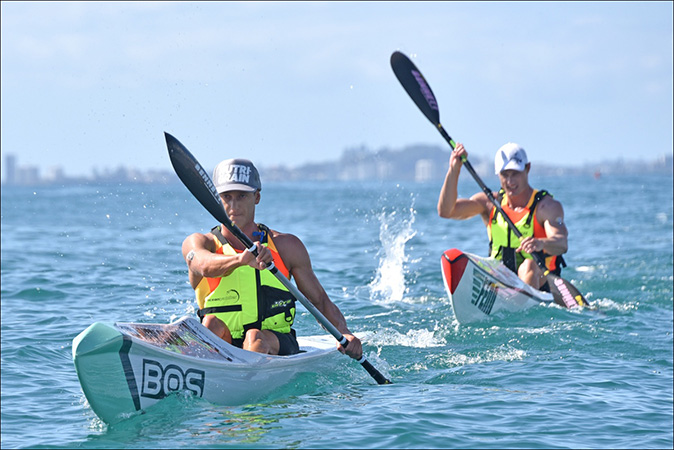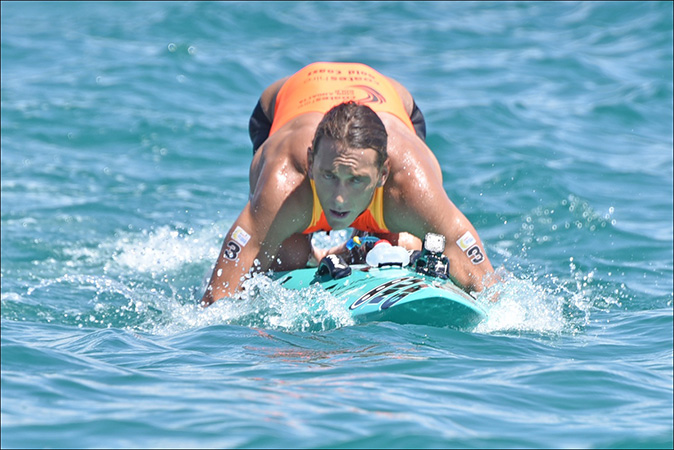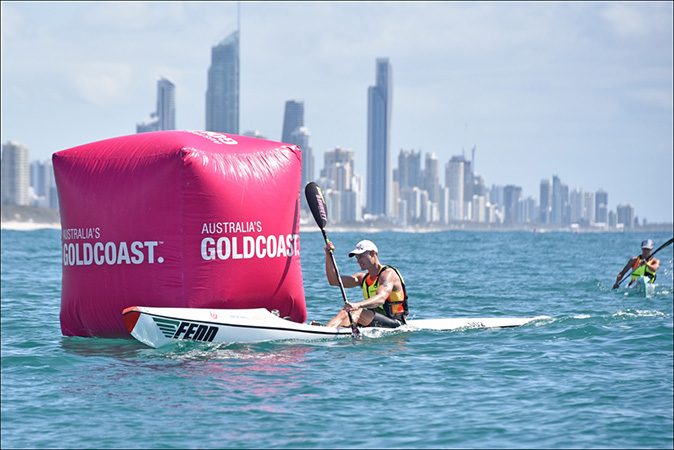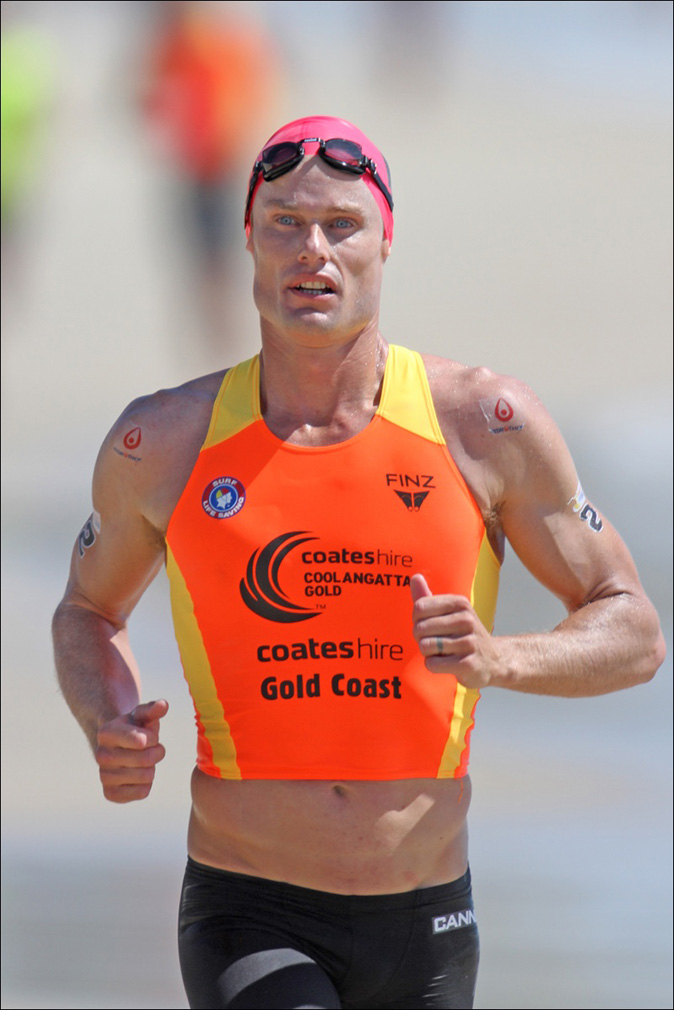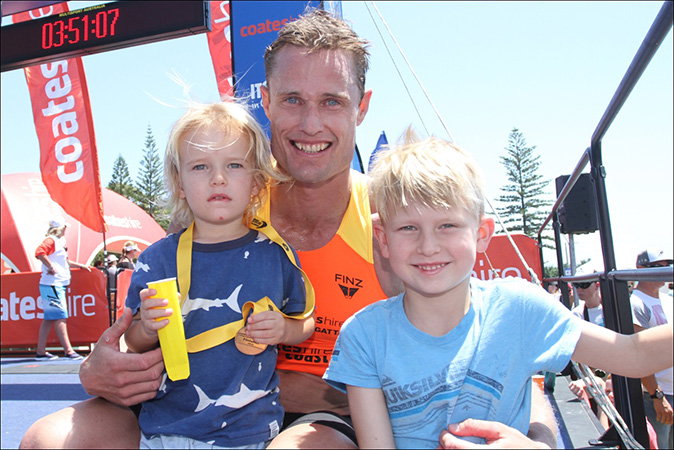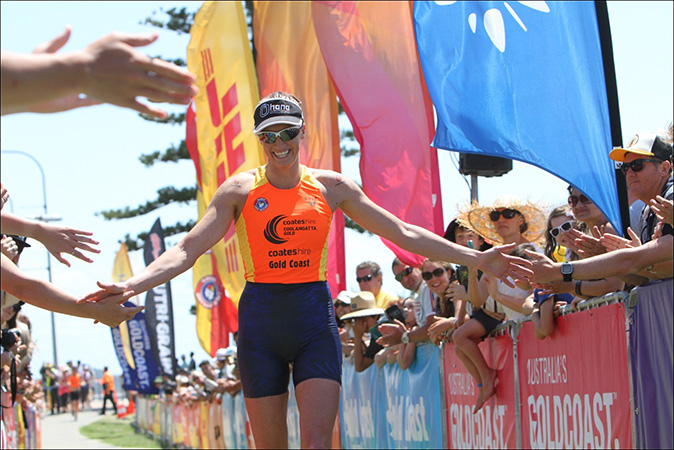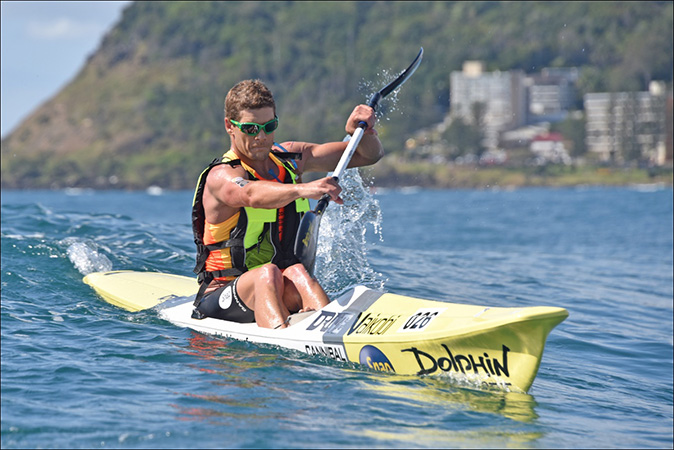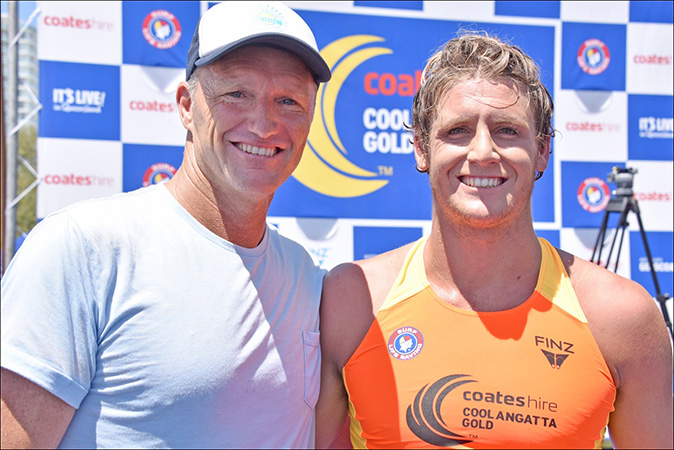 Issued on behalf of Surf Life Saving Australia by
Ian Hanson
Hanson Media Group
M: 0407 385 160
E: This email address is being protected from spambots. You need JavaScript enabled to view it.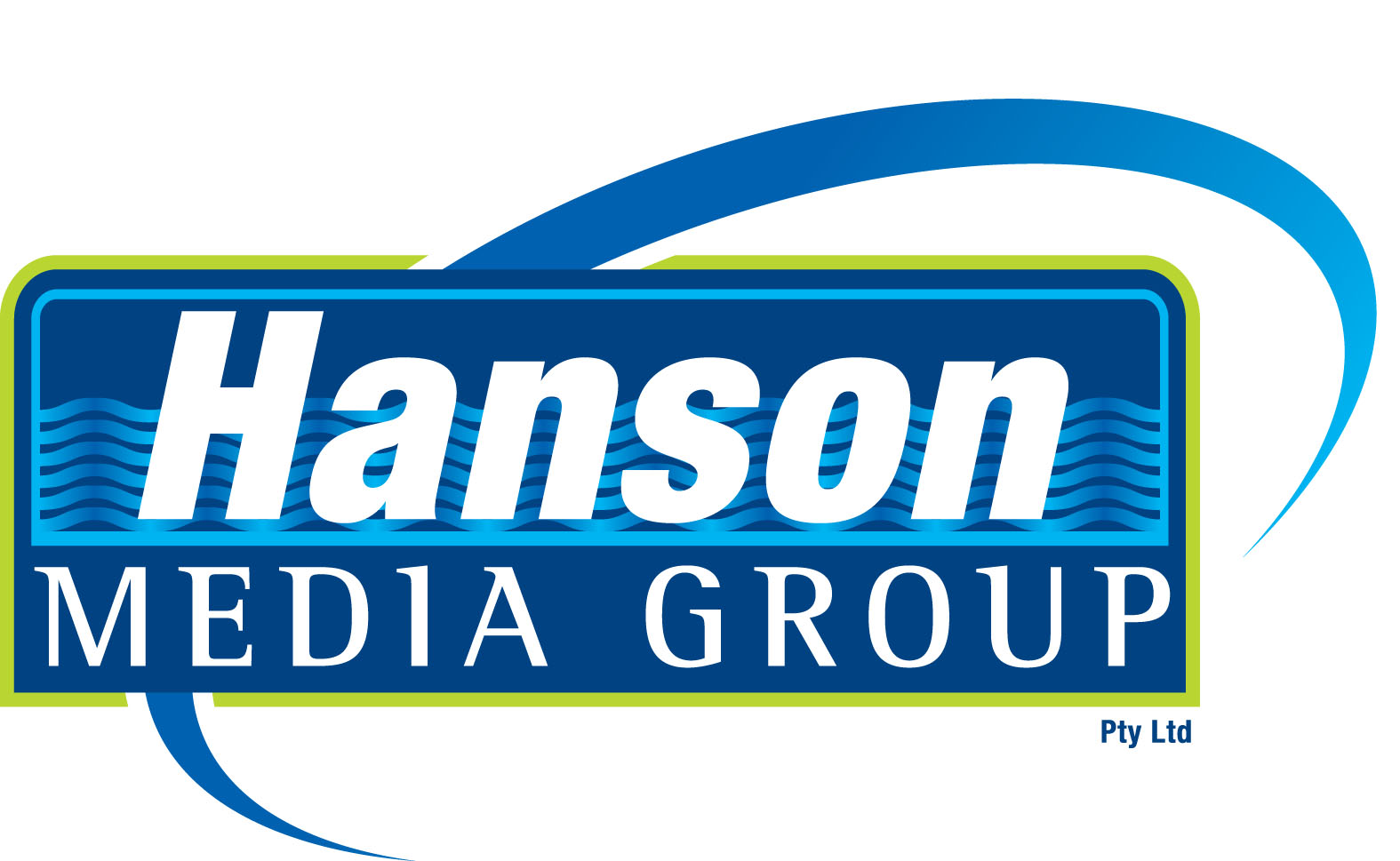 Ian Hanson| Media Manager Triathlon Australia Managing Director
Hanson Media Group | P O Box 299 | West Burleigh Qld 4219
Phone: +61 7 5522 5556 | Mobile 0407 385 160 | Fax: +61 7 5522 5557
This email address is being protected from spambots. You need JavaScript enabled to view it. | www.hansonsportsmedia.com