Ali's golden day out and Courtney's finest hour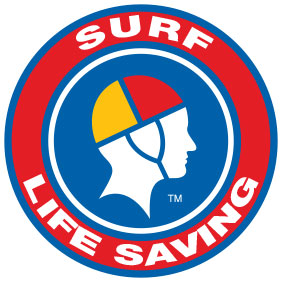 Surf Life Saving Australia, October 16, 2016:Ali Day powered to his fourth Coates Hire Coolangatta Gold title on the Gold Coast today and is now looking ahead 12 months to a possible showdown with the only man who has a better record, five-time winner Caine Eckstein.
The Surfers Paradise ironman star crossed the line in the 41.8km endurance test more than five minutes ahead of his nearest rival, Matt Bevilacqua (Kurrawa), with rising talent Alex Wright (Alexandra Headland) third.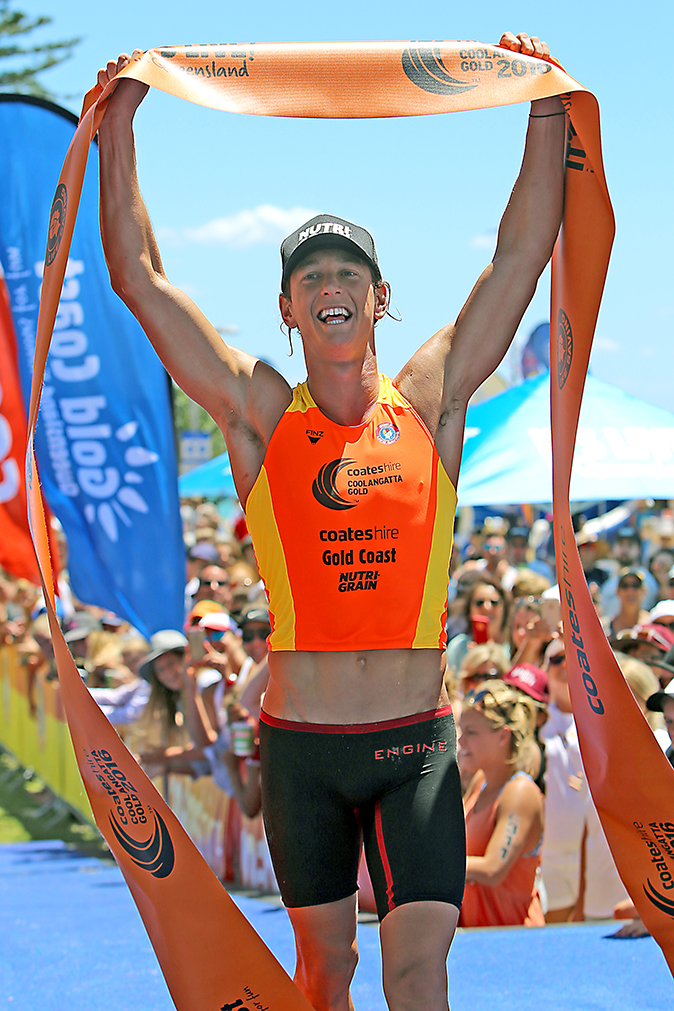 In the elite women's race, Northcliffe's Courtney Hancock battled to hold back tears as she won her second title in the surf lifesaving marathon ahead of Allie Britton (North Burleigh) and Rebecca Creedy (Kurrawa).
Day's win in three hours 54 minutes and 29 seconds puts him one victory short of the record held by Caine Eckstein, and after the finish there was talk of the pair both lining up in what would be a monumental 2017 race.
Adding further spice for next year is the clear indication that Australia's greatest ever Ironman champion, Caine's brother Shannon has already indicated that 2017 "would be a perfect time" for him to race Australia's toughest Ironman contest.
"Caine is the reason I first wanted to win this race and it would be amazing to maybe take him on next year," Day said.
"When I was young and saw him win his first race I thought 'how does he do that' and just wanted to be like him.
"The respect is mutual between the both of us, which is all you can ask for.
"I saw him on the course again today, like last year, and high fived him.
"We'll see what happens next year but for now I'll enjoy this fourth one."
Day said he was happy to break away from most of the 25-strong field in the opening ski leg, allowing him to dictate the rest of the race.
At the first transition at Miami, Day was just ahead of Bevilacqua and Manly's Kendrick Louis, and was then able to increase his advantage to more than two minutes in the 3.5km swim at Burleigh Heads.
From there he stretched the advantage during the board leg and the final 7.1km soft sand run from Currumbin the Coolangatta.
Opening up a big gap was also some insurance for Day, who had battled a recent calf injury and only passed a fitness test late yesterday.
"I'm grateful I was just able to get to the start line after sustaining the injury," he said.
"I was at the physio a couple of hours every day this week and I had an amazing team around me to get me to the line.
"I was still a bit nervous about it this morning and hoping that run wouldn't turn into a sprint finish. It's a bit sore but thankfully it lasted and I can put my feet up now."
The injury scare prompted Day to write the word 'believe' on his left hand, and he kept looking at it for inspiration throughout the race.
"I've seen the footy players do it all the time and I thought 'why not, I'll do it too', he said.
"I kept looking down at it and believing – that was the word for me today."
Bevilacqua finished comfortably in second place but was almost relegated to third when penalised three minutes for missing a gate during the board leg.
The penalty meant he was officially just two seconds ahead of Wright, who produced a storming finish.
Hancock took the elite women's crown in 2011 but has had to endure some frustrating results in the intervening years.
The joy and relief at finally winning again, mixed with exhaustion, saw her on the verge of breaking down as she crossed the line in 4:29.07 and slumped into a chair.
"I felt very emotional seeing all my family there, because you never know how many races you've got left as an athlete," she said.
"You just have to make the most of every single race."
Hancock was challenged early by Britton and Rebecca Creedy, but took charge in the 3.5km swim and pulled away to a comfortable win.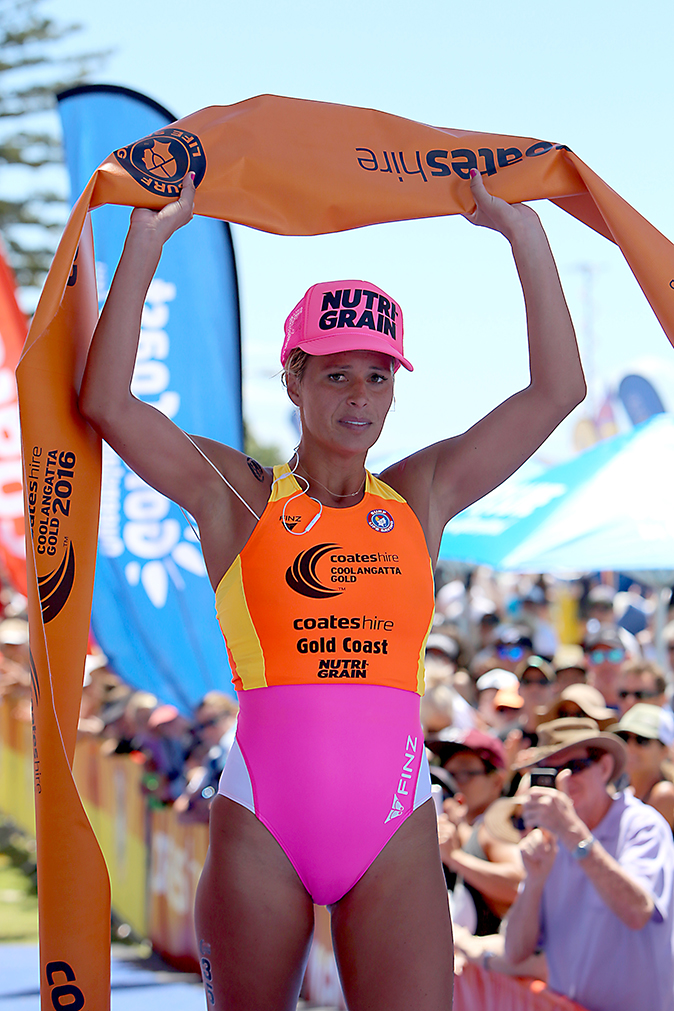 Britton finished second just under three minutes behind Hancock, while Creedy was another four minutes back in third place.
"I woke up this morning and I thought if I could put it together it will be the best race ever," Hancock said.
"In the last two years I have felt really good in races but it's been really frustrating for me. I have been so close.
"I felt really good at Aussies, and then got smashed after feeling like I was in the best form of my life."
Hancock was feeling so good ahead of the race she had to force herself to relax.
"I knew all week I felt something special, I felt really, really good," she said.
"I was getting my iPod ready last night and I started dancing and I said, 'slow down Courtney, keep that energy for tomorrow, you are going to be racing for over four hours'."
Like Day, Hancock was far enough ahead of her rivals to be able to soak up the adulation of the friends and fans who lined the chute to the finish.
"I'm just so pleased it wasn't a sprint finish, I'll never forget that in 2011, so I actually walked up the stairs (to soak it all in)," she said.
"It was really really nice to win a Coolangatta Gold and to take it all in. That was an absolute dream come true.
"I basically raced that race today how I wanted to. I knew the other girls were going to be really, really tough, but without doubt that was my favourite race I've done so far."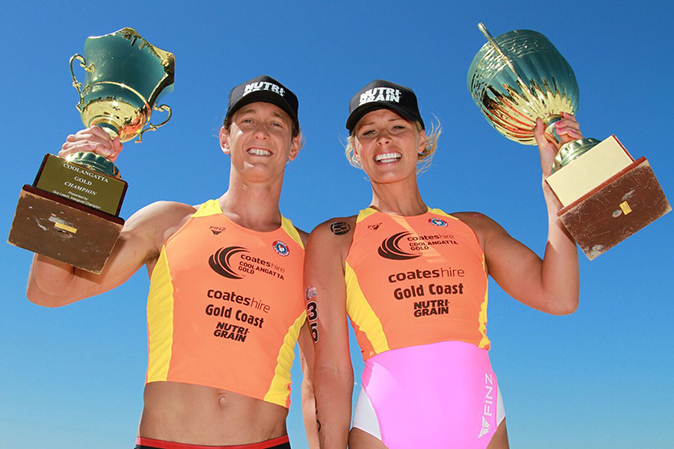 RESULTS
2016 Coates Hire Coolangatta Gold, Day 2, Long Course:
Men
Elite
A Day (Surfers Paradise) 03:54:29 M Bevilacqua (Kurrawa) 4:05:07 A Wright (Alexandra Headland) 4:05:09 K Louis (Manly) 4:06:07 N Gray (Surfers Paradise) 4:06:48 H White (Currumbin) 4:07:49 B Zuill (West Beach) 4:12:12. T McDonnell (BMD Northcliffe) 4:14:55 L Chapman (Surfers Paradise) 4:16:55 J Nicholson (BMD Northcliffe) 4:17:58
19-29 years M Gilling (Mordialloc) 4:46:34 J Haigh (Warilla Barrack Point) 5:19:56 T McMorrow (Inverloch) 5:23:08
30-39 years C Poland (Nowra-Culburra) 4:40:18 G Coltman (North Curl Curl) 4:45:23 T Jennett (Wollongong City) 04:48:43
40-49 years M Forrester (North Burleigh) 04:42:33.A Keegan (Unattached) 5:09:13 M Jennett (Wollongong) 5:13:24.3
50 plus years A Buhk (Alexandra Headland) 04:55:06 B Chase (Monmouth County – Sea Girt, New Jersey, USA) 5:38:41 S Oxenford (BMD Northcliffe) 5:45:34
Teams
Open
Central Engineering Currumbin (4:01:13) Team Manly 2 (4:07:30) Team Manly 1 (4:08:23)
35 years
Terrigal Masters (4:26:34.5) Mt Keira Podiatry (04:36:14) Mad Mackerals (4:44:09)
Women
Elite C Hancock (BMD Northcliffe) 4:29:07 A Britton (North Burleigh) 4:31:53 R Creedy (Kurrawa) 4:36:12 T Ferguson (Surfers Paradise) 4:56:03
I Kanyitur (Moana) 5:26:16 D Godoy (Freshwater) 5:45:39
30-39 years T Smith (BMD Northcliffe) 5:15:49 A Bowman (Sorrento) 6:00:31 L Trebilcock (Bondi)
Teams
Open The Pelicans (5:08:49) Leo Legends (5:26:52)
35 plus years Manly Gold Diggers (5:09:58)
MIXED
Teams Team Harambe (4:13:18.9), Team Jones(4:53:54.0) SBBR (5:10:16.6)
35 plus years Wauchope Bonny Hills – Expressway Spares (4:46:25)

Ian Hanson
Hanson Media Group
M: 0407 385 160
E: This email address is being protected from spambots. You need JavaScript enabled to view it.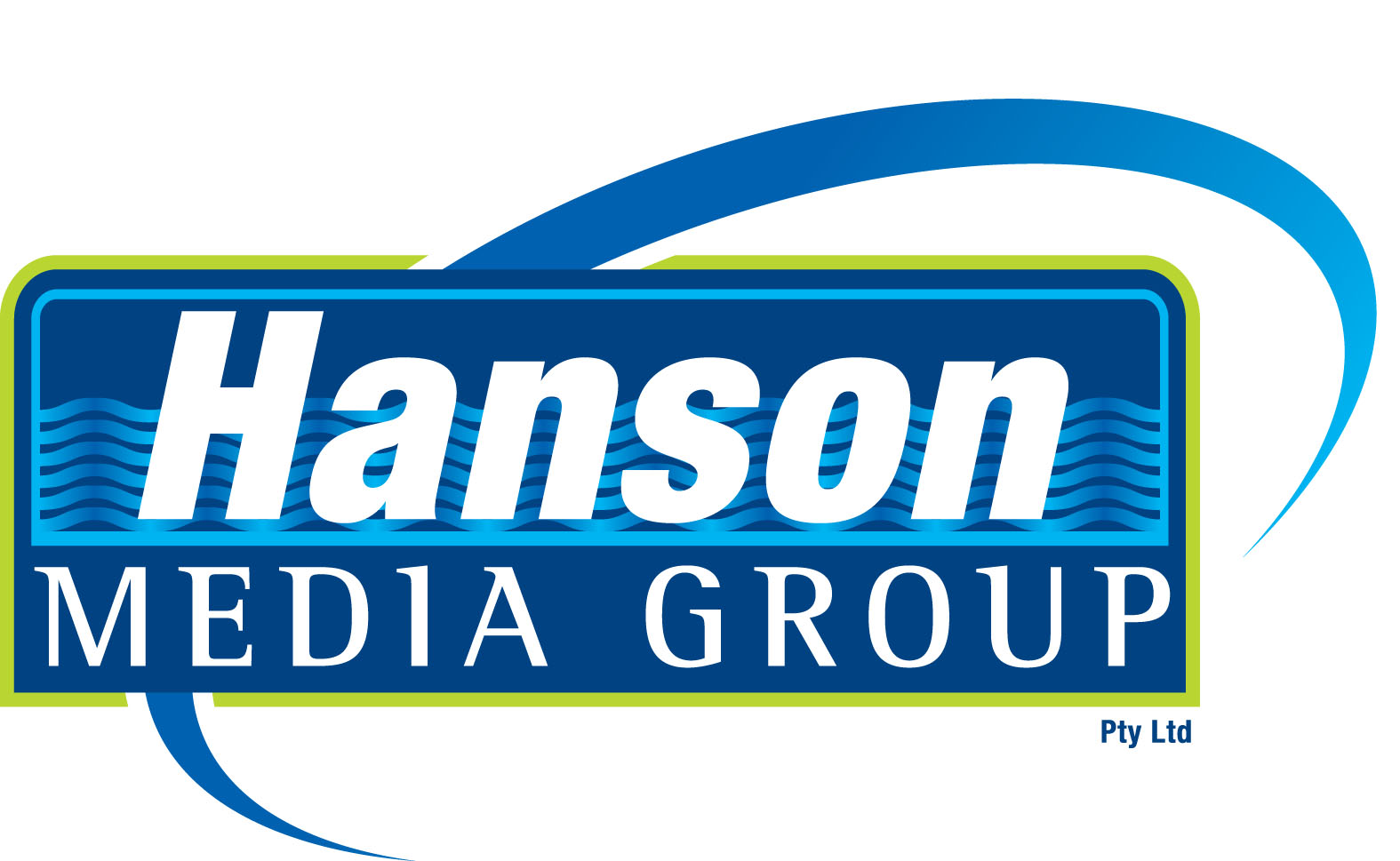 Ian Hanson| Media Manager Triathlon Australia Managing Director
Hanson Media Group | P O Box 299 | West Burleigh Qld 4219
Phone: +61 7 5522 5556 | Mobile 0407 385 160 | Fax: +61 7 5522 5557
This email address is being protected from spambots. You need JavaScript enabled to view it. | www.hansonsportsmedia.com