Alex girls and Manly boys finish Youth Championships with midas touch - DAY TWO North Kirra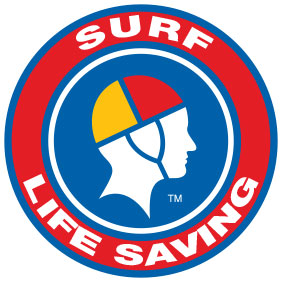 Surf Life Saving Australia, March 26, 2017: There was no stopping Sunshine Coast golden girl Lani Pallister who continued to stamp herself as a star of the future on day two of the Australian Youth Surf Life Saving Championships at North Kirra today.
In a thrilling climax to two exciting days of competition it was the Alex girls and the Manly boys who stole the show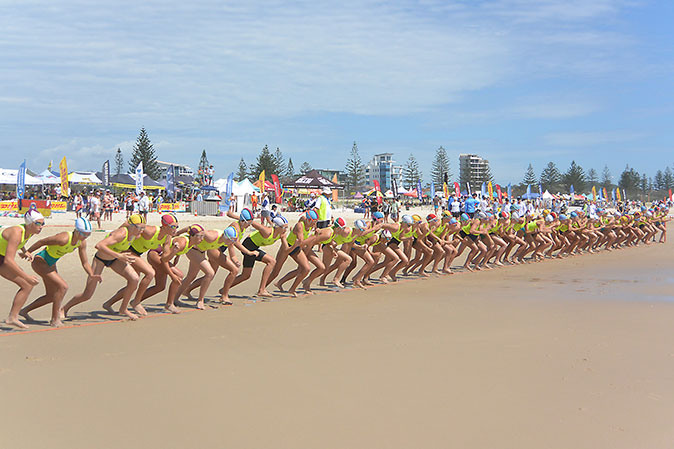 The 15-year-old Sunshine Coast schoolgirl Pallister added four gold medals to her two individual golds from the surf race and ironwoman from yesterday.
The lanky youngster who is coached by her mum, Olympian Janelle Elford and Rio Olympic Swim coach Chis Mooney in the pool and Jack Hansen in the surf at Alexandra Headlands certainly stole the show for the second time in two days.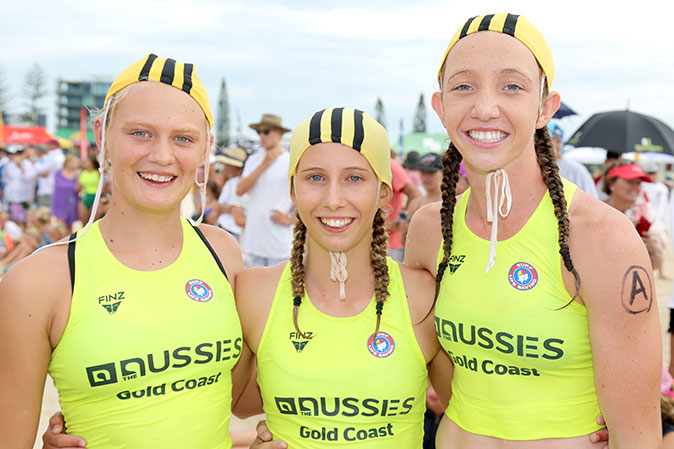 But today she shared her golden glow with six of her surf club team mates as Alexandra Headland dominated the women's team events.
They started out with their first gold of the day in the Under 15 surf teams, with Pallister joining forces with Emma Woods, Tayla Halliday and Bronte Naylor with Wanda taking silver and Maroochydore the bronze.
It was then on to the board rescue final where she combined with Woods who added her second gold medal before they were joined by the club's pocket rocket Tekara Aimer who produced the paddle of the day to put the Alex girls in the box seat before Pallister paddled home to give them board relay gold.
With the Cameron Relay (swim, board, run) remaining it was board paddler Wood who set the stage for the club's fourth gold of the day with runners Taylor Clifford and Carla Bull playing their parts along with club "superfish" Pallister.
And while there was great jubilation in the Alex Headlands camp there will not be too much time for celebration or time off for Pallister, who is putting her paddleboard on the racks to prepare for her tilt at the five-day Australian Swimming Championships, starting n Brisbane on April 9 – which double up as the Fina World Championship Trials for Hungary.
She will be back in the pool either tomorrow or Tuesday to start her preparations for the 400 and 800m freestyle at Open Nationals and the 50,100, 200, 400, 800m freestyle n the 100 and 200m butterfly at the National Age Championships.
"At the moment I'm really enjoying both surf and stillwater and I know at some stage I may have to choose, but at the moment I'm really having fun doing both," said Pallister.
"Mum and dad are so supportive either way and I am really enjoying doing what I want to do.
"I love the surf club spirit, it's just amazing like when you don't do as well as you want and everyone is there to support you and all the girls are so much fun to be around.
"But I can't wait to get the opportunity to race against such great athletes in the pool, it's going to be so exciting."
As the Alex girls jumped for joy, the powerful Sydney Northern Beaches club Manly finished its Youth Championships in style, winning both the boys' board and Cameron relays in dramatic fashion.
Third paddler Harrison Crowley fought hard all the way around the board relay course to hold out a determined challenge from Cooks Hill, with Burleigh Heads Mowbray Park third.
After strong efforts from teammates Tom Bedingfield and Zach Morris, Crowley and his Cooks Hill rival set off from the beach together and staged a ding-dong battle to the finish.
The Manly paddler took a small lead going around the cans, but then let his rival back in by moving too far south on the way back to the beach.
However he fought back and gained enough of an advantage to get to his feet first and win the sprint for the gold medal.
Bedingfield and Morris were also major players in Manly's Cameron relay win, opening up a small advantage over two Maroochydore teams in the final swim leg.
Maroochydore took a chance by using swimmers instead of runners for the final leg of the race, and tagging their teammates 50 metres from the beach and trying to outswim Morris.
The tactic appeared to have worked when one of the Maroochydore teams reached the beach first, but Morris was then tagged by Under-14 beach sprint silver medallist Aiden Helu, who switched on the afterburners and raced away to victory.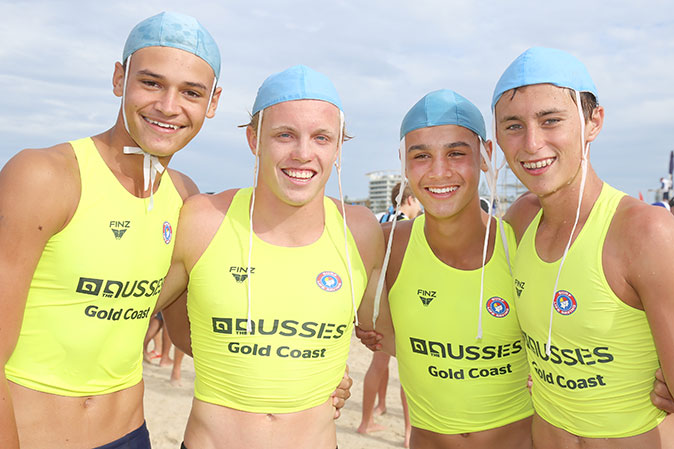 Swansea Belmont's B team of Josh Murphy and Kyle Lehmann caused a surprise when they stormed home to win the Under-15 board rescue gold medal.
Competing at the northern end of the course, the pair came from behind four other teams with a brilliant finish, running across the line ahead of Bode Schulz and Miller McQuitty-Brown (Northcliffe) in second place and Joseph McMenamin and Samuel Short (Maroochydore) in third.
The Swansea Belmont A team of Saxon Coates and Nicholas Stoddart, that many favoured for the gold medal, eventually finished fourth.
YOUTH CHAMPIONSHIPS
MEN
Under-15
Ironman L Braddish (Umina) J Sergis (Northcliffe), Z Morris (Manly). Board K Taylor (Cooks Hill), T Dixon (Noosa Heads), Y Dalton (Cooks Hill). Surf L Braddish (Umina) Z Roja (North Cronulla) Z Bromage (Sunshine Beach). Beach sprint K Norwood (Mollymook) K Jones (Mudjimba) C Sayers (Sorrento WA). Beach relay Mollymook Grange Seacliff. Beach flags S Zustovich (Mollymook) S Dalton (Mermaid Beach) T Lyons (Arcadian). 2km beach run B Waterman (Sorrento) Z Coleman (Fremantle) R McCure (Mermaid Beach). Surf teams Umina Currumbin Manly. Board relay Manly Cooks Hill Burleigh Heads Mowbray Park. Board rescue Swansea Belmont Northcliffe Maroochydore. Cameron relay Manly Maroochydore Currumbin.
Under-14
Ironman W Savage (Trigg Island) S Williams (Maroochydore) J McMenamin (Maroochydore). Board N Stoddart (Swansea Belmont) N Mackenzie (Lennox Head-Alstonville) T Hannan (Ocean Grove). Surf R Dixon (Wanda ) S Short (Maroochydore) N Middleton (Wanda). Beach sprint H Van Til (Jan Juc) A Helu (Manly) F Myers (Cooks Hill). Beach flags B Morkos (Bellambi) B Rudenas (North Cronulla) K Thompson (Noosa Heads). 2km beach run K Hammond (Wanda) J Hayden (North Cottesloe) C Ogilvie (Point Leo).
WOMEN
Under-15
Ironwoman L Pallister (Alexandra Headland) R Nolan (Sunshine Beach) K Fittock (Bulli). Board H Smith (Cudgen Headland) M Ward (Manly) E Woods (Alexandra Headland). Surf L Pallister (Alexandra Headland) R Nolan (Sunshine Beach) M Ward (Manly). Beach sprint I Walker (Cronulla) E Randazzo (Elouera) T Clifford (Alexandra Headland). Beach relay Elouera Alexandra Headland Cronulla. Beach flags M Carrothers (Newport) L McEwan (Denmark, WA) I Clarke (Alexandra Headland). 2km beach run H Jones (Scarboro) B Trinca (Southport) S Taurins (Newport). Surf teams Alexandra Headland Wanda Maroochydore. Board relay Alexandra Headland Maroochydore Manly. Board rescue Alexandra Headland Manly Wanda. Cameron relay Alexandra Headland Sunshine Beach Maroochydore.
Under-14
Ironwoman B Williams (Cooks Hill) T Halliday (Alexandra Headland) P Walker (Avoca Beach). Board B Williams (Cooks Hill) X Christopher (North Bondi) T Aimer (Alexandra Headland). Surf M Allars (North Burleigh) B Williams (Cooks Hill) L Derbyshire (Glenelg). Beach sprint E Beer (Currumbin) H Abbey (Nowra-Culburra) R Tougher (Elouera). Beach flags J Davidson-Bunch (Cronulla) H Abbey (Nowra-Culburra) E Thompson (Dicky Beach). 2km beach run L Nugent (Arcadian) T Aimer (Alexandra Headland) P Harrison (Manly).
MIXED
Under-15
5 Person R&R Coogee South Melbourne Collaroy.
OPEN CHAMPIONSHIPS
MEN
2km Ocean Swim Elite N Sloman (Sunshine Beach) B Armstrong (Northcliffe) T Montgomery (Currumbin). Under-19 J De Vries (Shelly Beach) J McMenamin (Northcliffe) T Wilson (Northcliffe). Under-17 H Cotter (Maroochydore) R Clout (Northcliffe) H Came (Cronulla)

WOMEN
2km Ocean Swim Elite K Lee (Noosa Heads) K Cummings (Maroochydore) M Spencer (Newport). Under-19 L Taylor (Northcliffe) A Smiroldo (Northcliffe) B Crisp (Northcliffe). Under-17 J Slee (Mermaid Beach) K Osborne (Alexandra Headland) E Doyle (Manly).
Official hashtag #Aussies2017
Issued on behalf of Surf Life Saving Australia
Ian Hanson
Hanson Media Group
M: 0407 385 160
E: This email address is being protected from spambots. You need JavaScript enabled to view it.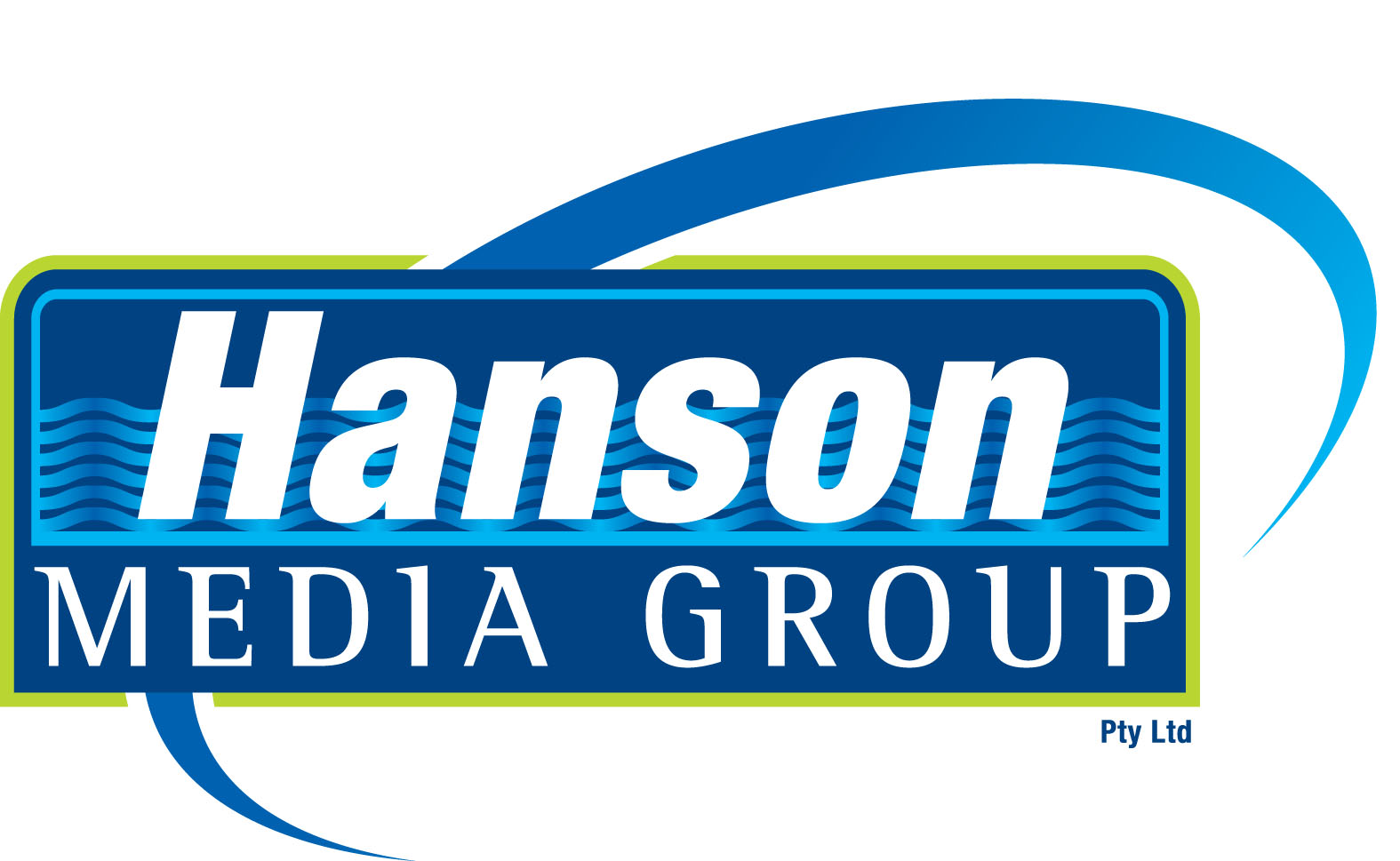 Ian Hanson| Media Manager Triathlon Australia Managing Director
Hanson Media Group | P O Box 299 | West Burleigh Qld 4219
Phone: +61 7 5522 5556 | Mobile 0407 385 160 | Fax: +61 7 5522 5557
This email address is being protected from spambots. You need JavaScript enabled to view it. | www.hansonsportsmedia.coom.au